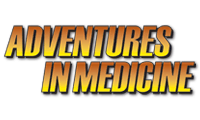 AIM is a superb job and life guide aimed at helping residents find the right job and transition successfully from residency to practice. It's a critical tool to help my students, and any student, prepare for the other side of medicine. - Dr. Kenton Lee
Rolling Meadows, IL (PRWEB) September 13, 2011
Originally published in 2010, Adventures in Medicine: The Resident's Guide to Life and Practice is the first comprehensive guidebook for hospital residents seeking both a satisfying career and a rewarding home life. In its second edition, the guide has expanded to introduce interactive workshops and online resources.
"Residents often isolate themselves from the world for more than a decade, placing their life, friends and family on hold," said Todd Skertich, Founder of Adventures in Medicine. "After all of the years of training, they're expected to flip a switch and transition into their new physician career and life simultaneously and very few do that successfully. Our goal is to provide the essential information needed to help residents discover their path to success."
Filled with personal interviews and advice, the guide was written with the aid of physicians and experts who understand the climate of healthcare today and are determined to improve it. Noted hospital CEOs, job coaches, financial counselors, recruiters and legal advisers contributed to make the book a unique, groundbreaking addition to healthcare and residency education.
"Within the last year, the guide has received rave reviews from physicians and hospitals alike," said Skertich. "Hospitals consistently tell us that it provides the tools residents need to make better decisions, and residents refer to the guide as their bible."
In response to the positive feedback, the new edition of the guide offers access to a range of interactive workshops and online tools. "We're really trying to build a community and physicians network to openly address key issues," said Skertich. "This year, we have launched a blog, created an online resource library and expanded our residency workshop programs. We believe these tools will only strengthen the effectiveness of the guide."
Though the Adventures in Medicine Blog and Online Resource Library are new, dozens of Residency Workshops have been completed in the last year. During these hour-long interactive presentations, experts on the business and life sides of medicine travel to residency programs to engage thought and discussion. Of all participants surveyed, over 85 percent said the sessions exceeded their expectations.
"We want to be as directly involved with residents as possible," said Skertich. "Adventures in Medicine is more than just a guidebook. We want to change the way residents approach the job search process and help them make more educated choices. Physician burnout is a huge problem, often the catalyst for bankruptcy, divorce, drug abuse and even suicide. Our resources encourage them to give important career and life decisions the consideration they deserve, with the ultimate goal of long-term satisfaction."
Dr. Kenton Lee, Family Medicine Program Director at the University of Illinois School of Medicine in Rockford, IL, is a strong advocate for Adventures in Medicine. "I've never seen a tool as comprehensive, useful and engaging as this," he said. "AIM is a superb job and life guide aimed at helping residents find the right job and transition successfully from residency to practice. It's a critical tool to help my students, and any student, prepare for the other side of medicine."
Adventures in Medicine: The Resident's Guide to Life and Practice is published in partnership with the support of several hospitals, physician advocates and healthcare organizations throughout the nation. Sponsorships cover production costs and ensure the book will be distributed free to residents, enabling them to successfully complete their job search before the end of their residency in spring 2012.
About:
Adventures in Medicine aims to ease the transition from residency to practice by providing the resources physicians need to develop critical interpersonal and professional skills, realize their purpose and achieve a healthy work-life balance.
Additional copies of the guidebook are available through amazon.com for $15.95.
For more information about Adventures in Medicine, e-mail nicole(at)adventuresinmedicine(dot)net or visit http://www.adventuresinmedicine.net.
###