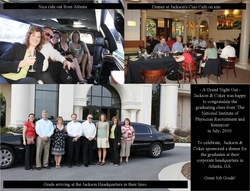 ...the presentations by Jackson & Coker representatives certainly contributed to the rapport and synergy created among all the participants. -- Roger Bonds, Executive Director of the American Academy of Medical Management
Alpharetta, GA (Vocus) August 4, 2010
The National Institute of Physician Recruitment and Retention convened in Atlanta, July 19-20, and three senior managers associated with Jackson & Coker participated as faculty members addressing in-house physician recruiters from around the country.
Roger Bonds is Executive Director of the American Academy of Medical Management, which sponsors training symposia in conjunction with the National Institute of Physician Recruitment and Retention.
He commented on the success of the Atlanta convocation: "The interest in the topics offered to in-house recruiters was intense and very gratifying. In particular, the presentations by Jackson & Coker representatives certainly contributed to the rapport and synergy created among all the participants."
The symposium featured multi-media presentations on various topics related to effective physician recruitment and retention:

Sourcing candidates
Strategic networking
"Engaging" prospects through social media
Credentialing doctors
Retaining top performers
Achieving a good return on investment.
Randy Weikle, Vice President of Government for Jackson & Coker, presented a session on "Understanding Locum Tenens." It covered facets of locum tenens contracting as part of a multi-pronged staffing plan suited to both large hospitals as well as small practice groups. Explaining how to utilize locum tenens providers most effectively for planned or emergency staffing requirements was the focal point of his presentation.
Mr. Weikle mentioned, "The use of locum tenens physicians is often misunderstood by institutional recruiters. They tend to think of LT doctors as emergency 'fill-in' specialists. While that is one aspect of what locum tenens firms offer, they also provide upfront contract physicians who can help a facility maintain revenue while a permanent FTE employee is recruited as part of planned growth."
A good staffing plan, he pointed out, allows hospitals or medical groups to prepare for anticipated vacancies like vacations, maternity leave and sabbaticals -- as well as easing the call schedule around holidays, which is something the permanent staff always appreciates.
"Finally, using the temp-to-perm hiring option allows for a trial period before the employer offers a candidate a permanent contract. It provides peace of mind, knowing that they're taking on board a physician who is competent and comfortable practicing in the clinical environment that he has become familiar with," Mr. Weikle noted.
Edward McEachern, Jackson & Coker Vice President of Marketing, discussed the importance of having a multi-faceted marketing approach to promote the medical facility, as well as creative means to source candidates, including innovative use of social media networking. As a point of illustration, he mentioned the ten social media sites that Jackson & Coker manages, including nine Twitter sites devoted to the main medical specialties that the firm recruits for currently.
"One of the keys to successful physician recruitment is effective networking. Social media offers doctors an opportunity to connect with one another in online communities that reflect their professional goals and concerns," Mr. McEachern explained.
"Smart use of social media allows recruiters to informally network with providers who are actively or passively exploring career opportunities. Social media is one of the many useful tools that busy recruiters can avail themselves of to complete challenging search assignments," he added.
Tim Sheley serves as Executive Vice President of Jackson & Coker's Permanent Placement Division. He also advised participants to consider a multi-pronged recruitment strategy to source highly qualified candidates, especially considering the current physician shortage.
"With the advancement of technology, physician search has reached the information 'super highway.' Recruiters who are not prepared to meet the communication needs of today's doctors will begin to feel more and more frustrated by the dwindling physician market place," Mr. Sheley said.
"These are no longer the days when direct mail or even postings on job boards are considered 'cutting edge.' If you don't want to get left behind, it pays to take advantage of all communication media at one's disposal," he emphasized.
Mr. Sheley's presentation also explained ways to determine the Return on Investment (ROI) associated with filling vacancies and maintaining revenue. He demonstrated Jackson & Coker's 2010-2011 "Return on Investment" calculator that administrators can use to calculate average hourly and yearly compensation of providers -- matched against their financial contribution to organizational revenue.
"This is a valuable tool for administrators in determining what a doctor is worth -- both in terms of revenue lost when a position is vacant and the financial contribution sustained when a provider is brought on board," he told the audience.
The National Institute of Physician Recruitment and Retention holds training sessions across the United States. Its mission is to offer an educational platform to experienced professionals who have direct involvement in some facet of physician recruitment and can offer fresh insights beneficial to in-house staff recruiters.
Upcoming symposia are scheduled for Chicago (September 20-24) and Las Vegas (November 8-12). Online registration is available at http://www.AAMMweb.org .
"Certainly we look forward to future participation from Jackson & Coker's management staff -- based upon their availability -- and attendance by others in the physician recruitment field," Mr. Bonds mentioned.
About Jackson & Coker
Begun over three decades ago, Jackson & Coker has been a leader in physician recruitment through the placement of physicians in both permanent placement and locum tenens physician jobs. The firm specializes in anesthesiology jobs, CRNA jobs, neurology jobs, psychiatry jobs, surgery jobs, primary care jobs as well as emergency medicine jobs. Headquartered in metro Atlanta, the firm has earned a reputation for providing cost-effective, time-sensitive solutions to both government and commercial health care organizations. The recruitment staff works in two divisions of the company: Retained Search, which places physicians in over 150 medical specialties and subspecialties in permanent staff positions, and locum tenens, a staffing model that recruits medical providers (physicians and CRNAs) for temporary vacancies.
Jackson & Coker has earned a "Gold Seal" designation as a "Certified Health Care Staffing Service" by the Joint Commission and is affiliated with a credentials verification organization (JH CVO) that has received certification by the National Committee for Quality Assurance (NCQA) in ten out of ten credentialing elements.
Jackson & Coker participates in social media networks such as Facebook, LinkedIn, YouTube and Twitter -- including managing separate Twitter sites aligned with major medical specialties.
The firm is a member of a "family of companies" known as Jackson Healthcare, also headquartered in Alpharetta, Georgia.
About Jackson Healthcare
Founded by the healthcare innovator Richard Jackson, Jackson Healthcare serves more than two million patients in nearly one thousand hospitals each year. The Jackson family of companies provides physician and clinician staffing, anesthesia management, hospital management and healthcare information technology solutions proven to improve clinical and financial outcomes, as well as increase operational efficiency. Jackson Healthcare has earned national media coverage for its physician polls and champions local and international charitable work. In addition, Jackson has been recognized as one of the fastest growing staffing companies in the country by the Inc. Magazine, Atlanta Business Chronicle, Georgia Trend and Staffing Industry Analysts. For more information about Jackson and its companies, visit Jacksonhealthcare.com. Jackson's research reports are available in the "Market Research" section under the upper tab "Media Room" on the home page.
Media Contact:
Danise Stewart
information(at)jacksoncoker(dot)com
770-643-5711
###