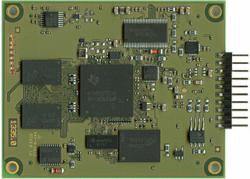 Our Compact 7 support, combined with our AM3517 SOM, is the ideal solution for OEMs that need to have a complete application up and running fast.
Seattle, WA (PRWEB) June 14, 2011
PHYTEC announced Windows Embedded Compact 7 support for the phyCORE-AM3517 System on Module (SOM). PHYTEC is an industry leading supplier of production-ready System on Modules and a Windows Embedded Gold Partner.
The phyCORE-AM3517 supports Texas Instruments' AM3517 and AM3505 high-performance, industrial applications processors based on cutting-edge ARM Cortex A8 technology. Windows Embedded Compact 7 is a componentized, real-time operating system that delivers the rich application experiences of Microsoft Silverlight and provides seamless connections to Windows 7-based PCs, servers and online services. Silverlight significantly simplifies the design of innovative UIs on Windows Embedded Compact 7-based devices.
In addition to Silverlight, Compact 7 also includes the following new features:

Internet Explorer Embedded with Integrated Flash 10.1
Touch, multi-touch and gesture
Connection Manager & Windows Device Stage
Microsoft Office and PDF viewers
QQ Messenger
The phyCORE-AM3517 Compact 7 Development Kit includes the SOM, a Carrier Board, optional LCD, and all accessories required for immediate start-up. A Compact 7 runtime image comes pre-installed on the SOM. Product developers with aggressive timelines or limited resources can also leverage PHYTEC's full range of design services, which include embedded hardware design and operating system adaptations.
PHYTEC SOMs provide a core foundation so customers do not have to develop their embedded application from the ground up. Designing in a SOM reduces the complexity and scope of product developments, allowing OEMs to significantly reduce cost, time-to-market and design risk.
"The new features in Compact 7 take development of user interfaces to the next level." said Josie Adams, Director of Product Development at PHYTEC America. "Our Compact 7 support, combined with our AM3517 SOM, is the ideal solution for OEMs that need to have a complete application up and running fast."
Availability
Priced starting at $699.00 - phyCORE-AM3517 Compact 7 Rapid Development Kits will be available directly from PHYTEC in July 2011. Please contact PHYTEC for more information at sales(at)phytec(dot)com.
About PHYTEC
In over 25 years of operations, PHYTEC has earned a reputation for high quality design, production and integration support of OEM-able System-on-Module (SOM) subassemblies and Rapid Development Kits that accelerate embedded product developments. Headquartered in Mainz, Germany, PHYTEC remains a majority family-owned enterprise, with operational divisions in Germany, the United States and France. PHYTEC provides off-shelf SOMs and hardware and software design services in support a variety of ARM® Cortex™-A8 and -A9, ARM11™, ARM9™, Intel® Atom™ and XScale® devices. PHYTEC products have been deployed in thousands of embedded designs, ranging from industrial control to medical, automotive, avionic and data processing applications.
For more information about PHYTEC, visit http://www.phytec.com.
© 2011 PHYTEC. All Rights Reserved. phyCORE® is a registered trademark of the PHYTEC Technologie Holding AG and PHYTEC America LLC. All other brands or product names are the property of their respective holders.
###