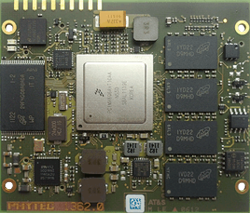 We are excited about the collaboration with PHYTEC, enabling designers to meet the demands for more innovation, new features, shorter product life-cycles, plus deliver stunning user experiences
Munich, Germany (PRWEB) November 12, 2012
PHYTEC launches the phyFLEX i.MX 6 System on Module (SOM), a feature packed SOM supporting the i.MX 6 series of application processors from Freescale. The i.MX 6 series is a highly scalable family of embedded processors based on the ARM® Cortex-A9 core architecture with single, dual, and quad-core offerings. The single and dual-core variants provide cost-effective performance, while the quad-core device provides the performance required for the highly demanding applications.
The flagship i.MX 6Quad device, with an exceptional 3D graphics engine, stereoscopic image sensor support for 3D imaging, HD video engine delivering 1080p60 decode and 1080p30 encode, 3D video playback, and separate 2D engine for UI. Other features include: 64-bit DDR3, SD3.0, USB 2.0, Gigabit Ethernet, integrated FlexCAN and MLB busses, PCIe, SATA-II, dual MIPI display port, dual MIPI camera port, and dual HDMI v1.4.
The combination of industrial temperature rating, 3.3V I/O, and highly reliable interconnects of the phyFLEX i.MX 6 make it possible for developers to create products that can endure rugged and extreme thermal industrial environments.
PHYTEC production-ready SOM technology, combined with operating system Board Support Packages, provides a critical foundation so embedded designers do not have to develop their application from the ground up. Designing in a SOM reduces the complexity and scope of product developments, allowing OEMs to significantly reduce cost, time-to-market and design risk. The phyFLEX i.MX 6 provides a perfect balance of power efficiency and high performance and is well suited for deployment in industries requiring high-end, feature-intensive applications.
Features and specifications for the phyFLEX i.MX 6 SOM include:
i.MX 6 applications processor support:

i.MX 6Solo, 6Dual, or 6Quad products based on ARM Cortex-A9 technology and running at speeds up to 1.2 GHz each
Hardware Accelerators: VPU, IPUv3H, GPU2Dv2, OpenVG 1.2, ASRC
Memory:

Up to 4 GB DDR3 SDRAM
Up to 16 GB NAND
Up to 16 MB SPI-NOR
32 KB EEPROM
Flash Expansion - 2x SDIO/MMC
Networking:

10/100/1000 Mbit/s Ethernet
Other I/O:

USB 2.0 OTG and Host
PCIe
SPI, CAN, UARTs, I²C, PWM, CSPI, I²S/SSI/AC97, EIM, MLB
SATA-II
Display:

2x LVDS
1x HDMI
2x Parallel (optional)
Touch control
Power:

Operating temperature:

Dimensions:

Operating System Support:

The phyFLEX i.MX 6 is available in a PHYTEC Development Kit. The kit includes the SOM, carrier board, Board Support Package (BSP), demo images and all contents required for immediate start-up. The carrier board serves as a starting point for design of target hardware. The kit provides an immediate platform on which to develop application code that can be seamlessly integrated along with the SOM into prototype, pre-production, and production systems. OEMs with aggressive timelines or limited resources can employ PHYTEC's full range of design services that include: embedded hardware design; Linux, Windows Embedded and Android adaptation; and complete turnkey designs.
"The phyFLEX i.MX 6 is an exciting addition to PHYTEC's product line of System on Modules based on Freescale devices, said Michael Mitezki, Chief Executive Officer of PHYTEC, "Our deployment-ready hardware, in combination with production-ready Windows Embedded Compact 7 and Linux BSPs, enable embedded developers to reach their product goals with minimal development time."
"Our i.MX 6 series processors enables outstanding integration, performance, and scalability, as evident in the strong feature set on PHYTECs advanced i.MX 6 based SOM," said Rajeev Kumar, portfolio manager for the i.MX Product Line at Freescale, "We are excited about the collaboration with PHYTEC, enabling designers to meet the demands for more innovation, new features, shorter product life-cycles, plus deliver stunning user experiences."
Availability:
phyFLEX i.MX 6 Linux Development Kits will be available late Q4/2012 and Windows Embedded Kits Q1/2013. Please contact PHYTEC for more information at sales(at)phytec.com from North America, or contact(at)phytec.de for all other locations.
About PHYTEC:
PHYTEC is an end-to-end solution to OEMs through all stages of product development, from initial concept and specification, to design and development, to prototype, launch, and full production. We offer systems integration support with hardware and software design services, Windows Embedded, Linux, and Android expertise, System on Modules, development kits, and manufacturing facilities. Headquartered in Mainz, Germany, PHYTEC remains a privately-held enterprise with operational subsidiaries in North America, France, and India. PHYTEC products have been deployed in thousands of embedded designs, ranging from industrial control to medical, automotive, avionic and data processing applications.
For more information about PHYTEC, visit http://www.phytec.com.
© 2012 PHYTEC. All Rights Reserved. phyFLEX® is a registered trademark of the PHYTEC Technologie Holding AG and PHYTEC America LLC. All other brands or product names are the property of their respective holders.