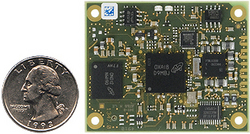 Bainbridge Island, WA (PRWEB) April 5, 2011
PHYTEC announces the industry's first-available System-on-Module (SOM)—the PHYTEC OMAP4430 SOM—supporting the dual-core ARM® Cortex™-A9 MPCore™-based OMAP4430 applications processor from Texas Instruments Incorporated (TI). With the phyCORE-OMAP4430, PHYTEC's customers developing in embedded markets ranging from industrial to medical are now able to leverage the OMAP™ 4 platform technology while receiving expert support and design services from PHYTEC.
The PHYTEC OMAP4430 System-on-Module provides a perfect balance of power efficiency and high performance. It is well suited for deployment in markets with high-end, feature-intensive products leveraging wireless embedded applications for industrial, medical and video or imaging solutions.
In a tiny 1.6 x 2 inches (41 x 51 mm) form factor, the phyCORE-OMAP4430 supports the 1 GHz OMAP4430 processor, has a power draw of only 3 W, and operates in a -40°C to + 85°C industrial temperature range.
PHYTEC production-ready SOM technology, combined with operating system board support packages, provides a core foundation so customers do not have to develop their embedded application from the ground up. Designing in a SOM reduces the complexity and scope of product developments, allowing OEMs to significantly reduce cost, time-to-market and design risk.
Features and specifications for the phyCORE-OMAP4430 SOM include:

Processor – TI's OMAP4430 applications processor (dual ARM® Cortex™-A9 cores running at 1 GHz each)
o Symmetric Multiprocessing (SMP)
o Graphics Accelerator – PowerVR SGX540 3D hardware accelerator
o Video Performance – 720p stereoscopic 3D
o Multimedia Accelerator – IVA 3 (1080p encode/decode)
o Imaging Performance – 20 MP/s and 5 MP/s (dual cameras)

o up to 1 GB LPDDR2 RAM
o up to 1 GB NAND-Flash

Flash Expansion – 2x SDIO/MMC
Networking – 10/100 Mbit/s Ethernet
Other I/O
o 1x USB 2.0 High-Speed Host
o 1x OTG
o 1x ULPI for connectivity to an external USB Phy
o 4x UARTS / 1 x RS-232
o 3x I2C / 1x I2S / 2x SPI

o 2x DSI
o 1x HDMI

Power – 3.3V operation
Operating temperature -40°C to + 85°C
Dimensions – 41 x 51 mm
Operating System – Linux, Windows Embedded Compact 7, Android-ready
The phyCORE-OMAP4430 will be available in a Development Kit that includes the SOM, a Carrier Board, optional LCD, and all accessories required for immediate start-up. Developers can choose from Windows Embedded Compact 7 or Linux to be pre-installed on the SOM. The Carrier Board serves as a reference design for target hardware development. The Kit provides an immediate platform on which to develop application code that can be seamlessly integrated along with the SOM into prototype, pre-production, and volume production systems. Product developers with aggressive timelines or limited resources can employ PHYTEC's full range of design services, which include embedded hardware design, operating system adaptation and complete turnkey designs.
Introduction of the phyCORE-OMAP4430 is an exciting addition to PHYTEC's product line of System on Modules based on TI's applications processors. Currently PHYTEC also offers modules based on the OMAP3530 processor and the AM3517 Sitara™ ARM microprocessor.
Bodo Huber, Chief Technology Officer of PHYTEC, commented "PHYTEC is very pleased to collaborate with TI to make the OMAP4430 processor immediately available to the embedded industrial, medical and video/imaging markets through our SOM and kits. Our deployment-ready hardware, in combination with production-ready Windows Compact 7 and Linux BSPs, will enable general market developers to reach their product goals with minimal development time."
"TI's OMAP 4 platform offers a tremendous amount of opportunity for embedded designers that require high performance with high power efficiency. Development kits like those offered by PHYTEC stand to help such designers bring to market compelling products quickly and efficiently through the delivery of comprehensive SOMs and customized support services," said Michael Schoonover, business development director, enterprise business line, wireless business unit, TI.
Availability:
Priced starting at $549.00 - phyCORE-OMAP4430 Rapid Development Kits will be available directly from PHYTEC in Q2/2011. Please contact PHYTEC for more information at sales(at)phytec(dot)com.
About PHYTEC :
In 25 years of operations, PHYTEC has earned a reputation for high quality design, production and integration support of OEM-able System-on-Module (SOM) subassemblies and Rapid Development Kits that accelerate embedded product developments. Headquartered in Mainz, Germany, PHYTEC remains a majority family-owned enterprise, with operational divisions in Germany, the United States and France. PHYTEC provides off-shelf SOMs and hardware and software design services in support a variety of ARM® Cortex™-A8 and -A9, ARM11™, ARM9™, Intel® Atom™ and XScale® devices. PHYTEC products have been deployed in thousands of embedded designs, ranging from industrial control to medical, automotive, avionic and data processing applications. For more information about PHYTEC, visit http://www.phytec.com.
© 2011 PHYTEC. All Rights Reserved. phyCORE® is a registered trademark of the PHYTEC Technologie Holding AG and PHYTEC America LLC. All other brands or product names are the property of their respective holders.
# # #