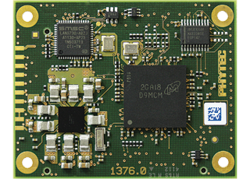 The new OMAP 5 processor-based phyCORE-OMAP5430 SoM provides a feature-packed option for embedded developers, backed by PHYTEC's commitment to maximize investments and fuel solid design execution.
Munich, Germany (PRWEB) November 12, 2012
PHYTEC announces the phyCORE-OMAP5430 System on Module (SOM), a feature-packed SOM based on the OMAP5430 processor from Texas Instruments Incorporated (TI). In 2011 PHYTEC released the first SOM to the market supporting TI'sOMAP4 platform. Now customers have a perfect migration path with pin compatibility to the OMAP 5 platform.
The OMAP5430 processor is an advanced architecture which includes a dual-core ARM® Cortex-A15 MPCore foundation, complemented by multiple graphics accelerators and dualCortex-M4coresfor low-power offload and real-time responsiveness. Multi-core POWERVR™ SGX544-MPx graphics accelerators drive 3D gaming and 3D user interfaces on the processor, while other features include: a dedicated 2D graphics engine, hardware accelerators for full HD 1080p60fps and 1080p30fps 3D, support of simultaneous cameras and displays, and high performance peripheral interfaces.
PHYTEC production-ready SOM technology, combined with operating system board support packages, provides a critical foundation so embedded designers do not have to develop their application from the ground up. Designing in a SOM reduces the complexity and scope of product developments, allowing OEMs to significantly reduce cost, time-to-market and design risk.The phyCORE-OMAP5430 provides a perfect balance of power efficiency and high performance and is well suited for deployment in markets with high-end, feature-intensive products leveraging wireless embedded applications for industrial, medical and video or imaging solutions.
Highlights for the phyCORE-OMAP5430 SOM include:

OMAP5430 processor
up to 4 GB LPDDR2 RAM
up to 64 GB eMMC Flash
Memory expansion: 2x SDIO/MMC
Networking: 10/100 Mbit/s Ethernet
Other I/O: 1x USB 3.0, 1x USB 2.0, 4x UARTS (one RS-232), 3x I2C, 1x 1-Wire, 1x MCBSP, 2x MCSPI
Display: 1x Display Serial Interface (DSI), 1x Display Parallel Interface, 1x HDMI
Power : 3.3V supply, 1.8V I/O
Operating temperature: -40°C to +85°C
Dimensions: 55 x 45 mm
Planned Operating System Support: Linux, Windows, and Android
The phyCORE-OMAP5430 will be available in a PHYTEC Rapid Development Kit (RDK). The kit includes the SOM, carrier board, board support package (BSP), demo images and all contents required for immediate start-up. The carrier board serves as a starting point for design of target hardware. The RDK provides an immediate platform on which to develop application code that can be seamlessly integrated along with the SOM into prototype, pre-production, and production systems. OEMs with aggressive timelines or limited resources can employ PHYTEC's full range of design services that include: embedded hardware design; Linux, Windows Embedded and Android adaptation; and complete turnkey designs.
Michael Mitezki, Chief Executive Officer of PHYTEC, said "PHYTEC has evolved a clear and rich roadmap with our partners. Having early access to cutting edge silicon before the general market, we are able to support many OEMs who cannot access this technology directly. The phyCORE-OMAP5430 is an exciting addition to PHYTEC's product line of System on Modules based on TI's applications processors."
"With a history of working with previous-generation OMAP processors, the PHYTEC team has an astute ability to leverage the best of the OMAP processor architecture for embedded applications," said Michael Schoonover, industrial business development manager, OMAP platform business unit, TI. "The new OMAP 5 processor-based phyCORE-OMAP5430 SoM provides a feature-packed option for embedded developers, backed by PHYTEC's commitment to maximize investments and fuel solid design execution."
Availability:
phyCORE-OMAP5430 Rapid Development Kits will be available to PHYTEC Alpha customers in Q1/2013. Please contact PHYTEC for more information at sales(at)phytec(dot)com from North America, or contact(at)phytec(dot)de for all other locations.
About PHYTEC:
PHYTEC is an end-to-end solution to OEMs through all stages of product development, from initial concept and specification, to design and development, to prototype, launch, and full production. We offer systems integration support with hardware and software design services, Windows Embedded, Linux, and Android expertise, System on Modules, development kits, and manufacturing facilities. Headquartered in Mainz, Germany, PHYTEC remains a privately-held enterprise with operational subsidiaries in North America, France, and India. PHYTEC products have been deployed in thousands of embedded designs, ranging from industrial control, to medical, automotive, avionic and data processing applications.
For more information about PHYTEC, visit http://www.phytec.com.
About the Texas Instruments Design Network:
PHYTEC is a member of the TI Design Network, a premier group of independent, well-established companies that offer products and system-level design and manufacturing services complementing TI's semiconductors to a worldwide customer base to accelerate product innovation and time-to-market. Network members provide product design, hardware and software system integration, turnkey product design, RF and processor system modules, reference platforms, software development, proof-of-concept design, feasibility studies, research, certification compliance, prototyping, manufacturing, and product life cycle management.
For more information about the TI Design Network, please visit http://www.ti.com/designnetwork .
© 2012 PHYTEC. All Rights Reserved. phyCORE® is a registered trademark of the PHYTEC Technologie Holding AG and PHYTEC America LLC. All other brands or product names are the property of their respective holders.