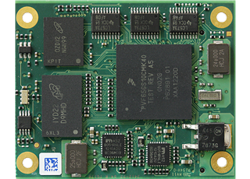 The phyCORE-VFxxx addresses the classic, real-time industrial control and automation vertical that has long been an important part of PHYTEC's market base
Munich, Germany (PRWEB) November 12, 2012
PHYTEC announces the phyCORE-VFxxx System on Module (SOM), a feature rich and ultra-low cost SOM supporting the Vybrid family of controller solutions from Freescale Semiconductor. Vybrid controller devices are the perfect solution for applications that require a sophisticated human-machine interface, multiple connectivity options, powerful peripherals, and concurrent real-time control. Vybrid devices are based on asymmetrical-multiprocessing with the ARM® Cortex™-A5 for general purpose application and the ARM Cortex-M4 core for low-power offload and real-time responsiveness. The Vybrid device family, with low latency of communication between high-level operating systems such as Linux and MQX, brings together these two very different system paradigms within a single silicon.
The phyCORE-VFxxx SOM flexibly supports all the families in the Vybrid portfolio, which span from cost-effective single core ARM Cortex-A5 chips, to devices with large on-chip SRAM, up to highly integrated heterogeneous dual-core solutions that can serve industrial and general embedded markets.
PHYTEC production-ready SOM technology, combined with operating system Board Support Packages, provides a critical foundation so embedded designers do not have to develop their application from the ground up. Designing in a SOM reduces the complexity and scope of product developments, allowing OEMs to significantly reduce cost, time-to-market and design risk.
Features and specifications for the phyCORE-VFxxx SOM include the following:
Vybrid VF6xx, VF5xx controller solutions:

Heterogeneous ARM® Cortex processors
ARM® Cortex™-A5 @ 450 Hz
ARM® Cortex™-M4 @ 167 MHz (VF6xx only)
Open VG 1.1 GPU
Memory:

1.5 MB on-chip SRAM, 512 KB SRAM with ECC, 512 MB DDR3 SDRAM, 2 GB NAND, 128 MB SPI-NOR with XiP, 4 KB EEPROM
Flash Expansion: 2x SDIO/MMC
Networking:

2x 10/100 Ethernet with L2 switch and IEEE 1588 PTP for Real-Time Ethernet
Other I/O:

2x USB
2x RS-232, 2x CAN, 4x I2C, 4x SPI, 2x QSPI, 4x PWM
Audio (SAI, I2S, AC97, ESAI, SPDIF)
16-bit bus interface
External and on-chip RTC
VIU for camera input
4x Security TAMPER signals, 2x 10 channel 12-bit ADC, and 2x 12-bit DAC
JTAG and BDM/Nexus port
Display:

2x display controllers with support for 24-bit TFT displays up to SVGA
Touch controller
Power:

Dimensions:

Operating temperature:

Operating System and Tool Support:

Timesys LinuxLink PRO Edition, ARM Development Studio 5 with multicore support, Linux and MQX Board Support Packages.
The phyCORE-VFxxx will be available in a PHYTEC Development Kit. The kit includes the SOM, carrier board, Toolchain, and Board Support Packages (BSPs). The carrier board serves as a starting point for design of target hardware. The kit provides an immediate platform on which to develop application code that can be seamlessly integrated along with the SOM into prototype, pre-production, and production systems. OEMs with aggressive timelines or limited resources can employ PHYTEC's full range of design services that include: hardware, software, and complete turnkey services.
Michael Mitezki, Chief Executive Officer of PHYTEC, said "PHYTEC is pleased to extend our board-level support to the Freescale Vybrid family of devices. This device family represents a convergence of powerful ARM-based processing with features that are well-suited for deep embedded applications. The phyCORE-VFxxx addresses the classic, real-time industrial control and automation vertical that has long been an important part of PHYTEC's market base."
Luke Smithwick, Global Operations and Business Manager at Freescale, commented "We've built our new Vybrid solutions to address the enormous challenge of adding advanced user interfaces to applications that traditionally have been focused on real-time control. With the Vybrid platform, Freescale is going beyond silicon to provide a full software-hardware solution, making it easier and faster for our customers to develop systems that need rich applications in real time."
Availability
PHYTEC phyCORE Vybrid Development Kits will be available to PHYTEC Alpha customers in late Q4/2012 and General Release Q1/2013. Please contact PHYTEC for more information at sales(at)phytec(dot)com from North America, or contact(at)phytec(dot)de for all other locations.
About PHYTEC
PHYTEC is an end-to-end solution to OEMs through all stages of product development, from initial concept and specification, to design and development, to prototype, launch, and full production. We offer systems integration support with hardware and software design services, Windows Embedded, Linux, and Android expertise, System on Modules, development kits, and manufacturing facilities. Headquartered in Mainz, Germany, PHYTEC remains a privately-held enterprise with operational subsidiaries in North America, France, and India. PHYTEC products have been deployed in thousands of embedded designs, ranging from industrial control to medical, automotive, avionic and data processing applications.
For more information about PHYTEC, visit http://www.phytec.com.
About Freescale Connect Partner Program
PHYTEC is a Proven Partner in the Freescale Connect Partner Program. The Freescale Connect Partner Program is the essential source for embedded designs based on Freescale solutions. The program comprises a global network of independent engineering companies that offer the vital tools, software, technology, engineering services and training to speed your design. From reference boards to optimized software, Freescale Connect provides a powerful and comprehensive ecosystem that partners with you in making the world a smarter, more connected place.
For more information about the Freescale Connect Partner Program, please visit:http://www.freescale.com/partners.
© 2012 PHYTEC. All Rights Reserved. phyCORE® is a registered trademark of the PHYTEC Technologie Holding AG and PHYTEC America LLC. All other brands or product names are the property of their respective holders. Freescale is a trademark of Freescale Semiconductor, Inc., Reg. U.S. Pat. & Tm. Off. Vybrid is a trademark of Freescale Semiconductor, Inc.