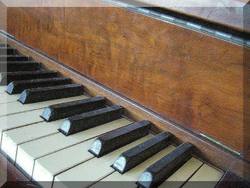 This piano lesson is all about Accents. Musical accents are the secret ingredient that pros use to turn ordinary music on the piano into fantastic phrases that make people stand up and cheer!
Jacksonville, OR (PRWEB) February 26, 2010
David Sprunger, author of the bestselling piano lessons course titled "Pattern Piano and Keyboard", is back again with installment 15 in his course titled "Blues for Piano and Keyboard".
This is an advanced chapter that builds upon the previous lessons in the blues piano series, and pulls the bulk of its base from David's original course, titled "Pattern Piano and Keyboard". For those students who have not yet purchased the original course, David strongly recommends viewing and completing it before moving on to the more advanced techniques outlined in this course.
Chapter 15 of the blues piano lessons starts off, like many of David's courses, with a driving, piano centered, blues piece. It's a rocking rhythm that really shows off David's talent, both as a band leader and as an instructor. David then comes on, via voice over, explaining what he will document in this chapter. He explains that the seemingly complex song he just played can actually be broken down into smaller, more manageable blues riffs. A riff is a pre-planned musical phrase that can be spliced into a song or solo to add feel and depth to the piece.
This song in particular, David says, can be broken down into 18 individual piano blues riffs.
From this point in the piano lesson, David "gives the band a break" and plays the same song, but this time with just the piano, and at half its original tempo. Most of the seemingly magical things he was doing are revealed at this speed, to be multiple lines of simple musical ideas, strung together to create what he calls a "musical phrase." Most of the nuances and subtleties central to David's style become evident when he breaks the song down in this manner.
The next portion of this piano lesson is centered on David's first riff, and lays the ground work for how the rest of the piano lesson will be taught. The first concept that David covers is what's called a tremolo, or rapidly switching back and forth between two notes in a riff. David explains, "The more movements back and forth you can squeeze into this piano riff before having to move on, the more life is brought to the phrase."
Continuing on with the blues riff, David explains the relationship between the notes you play on the piano and the key you're in. In this instance, his melody line is over the G blues scale, and almost all of the notes he plays are pulled out of this scale. He also describes how accents can make your line stand out, giving it that "alive" feel. "Accents" David says "are the secret that can turn an ordinary musical phrase into something fantastic!".
Moving on to piano blues riff number two, a fantastic riff in its own right, with endless possibilities musically, David illustrates a concept he calls "anchor notes". To describe anchor notes, he starts by explaining something basic to piano playing: the bass hand usually plays a steady driving rhythm while the melody hand is free to express the musical idea. When notes played in the melody hand coincide with the downbeats of notes in the bass hand, it's called an anchor note. These notes bring the band together, and add a sense of structure to the piece.
When you add the concept of accents with the idea of anchor notes, you get a sense of the musical tool that can be used over "asymmetrical phrases" when playing the piano. These are musical phrases with anchor notes that have accents in between them. For instance, a typical bass line will have downbeats on each quarter note of the measure, which is typically where the accents occur (causing anchor notes), but when you add "asymmetrical " (or uneven) phrases in the right hand between the anchor notes, it creates a fantastic bluesy sound on the piano. The name of this concept comes from its tendency to vary from riff to riff, and never quite stay within the "typical" structure of more traditional music.
Through the end of this blues piano lesson, David continues illustrating each piano riff in the same manner: playing the riff, isolating the melody and bass lines, pointing out the anchor notes, and finding the accents. By the end off riff 18, the student finds that he has an immense wealth of musical knowledge under his belt that he can throw in almost every situation to add spice and variety to his or her piano playing.
All in all, this piano lessons chapter is a fantastic way for more advanced students to extend their knowledge of blues piano, and offers many great insights into developing their own style and onstage confidence.
# # #