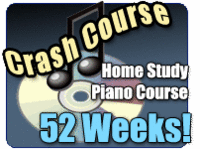 Without the sheet music in front of me
Medford, Oregon (PRWEB) January 2, 2008
An exciting new course for beginning and near-beginning adults on piano playing using chords & chord progressions has been published by Keyboard Workshop of Medford, Oregon. The 52-week course on multiple DVD's and coordinated books and charts covers both playing by sight-reading notes and also by using chords and chord progressions.
The author, Duane Shinn, has created over 300 specialized courses on DVD and CD for adults about various aspects of piano playing and chord formations. This course combines music reading with chord arranging and improvisation to create a synergy, which is far better than either learning style alone and can speed up the learning curve of students exponentially.
Being able to use chords in piano songs is like a "back door" to the world of piano playing without having to go through the front door: years and years of scales, drills, rote practicing, etc. Chords are really a shortcut to understanding and playing music without all the formal training.
Formal sight-reading training by a local piano teacher is fine if you have the time and money. But most adults don't want to wait forever before they can play something enjoyable on the piano, and that is exactly where chords enter the picture. The author of the course, Duane Shinn, took lessons when he was a kid, but found it boring. Not only that, but all he could do was play the written music exactly as it was written.
"Without the sheet music in front of me" Shinn wrote, "I didn't have a clue what to do. So I lost interest in piano playing until I was in high school and had the opportunity to play in a school combo -- but to do that, I had to learn chords, and learn them fast. So I sent for a $2. chord chart advertised in Popular Mechanics, and within hours after I got it I was playing the Dm7 chord and the C6 chord in my left hand while I played the tune with my right hand. Talk about excited! Within a few weeks I could play dozens of songs using chords. And I discovered that my sight-reading speed greatly improved at the same time, because now I understood what I was seeing on the printed page! So I came in through "the back door of chords" instead of the traditional way, and now I enjoy what I used to hate! Why? Because I understand what I'm doing because now I understand chords and chord progressions. I eventually went on to get my Masters Degree and have taught piano to thousands of students -- and it was easy because of all I had learned about music theory and harmony due to playing and understanding chords."
In this course students get the best of both worlds: the understanding that comes from knowing chords, but also how to sight-read printed music. And it becomes much easier and faster because students understand what they are seeing -- chords and parts of chords and chords stretched out into a string of individual notes (called "arpeggios") and chord progressions -- one chord flowing into another.
The Crash Course contains 52 weekly lessons on DVD with coordinated books and charts covering all aspects of piano chords and chord progressions, each lesson covering several songs and techniques taught step by step by Duane, who demonstrates each style, chord, and song.
For additional information on the year long "Crash Course" please visit http://www.pianolessonsbyvideo.com/crash.htm
About Keyboard Workshop:
Keyboard Workshop in Medford Oregon was born in 1965 and has taught thousands of people to play the piano using chords. Courses from the Workshop can be found at http://www.playpiano.com
###