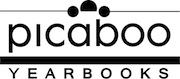 (PRWEB) January 23, 2013
Picaboo Yearbooks, which is on a mission to revolutionize the yearbook, has launched a new feature called "3rd Party Photo Contribution," which allows students, parents, administrators, volunteers, teachers and to take high resolution photos with their smartphone, digital camera or any other device, and upload them directly to the yearbook committee via a school-specific URL.
"One of the biggest challenges of any yearbook is getting enough great photos that capture school memories and experiences," commented Bryan Payne, President of Picaboo Yearbooks. "However, despite living in a world where so many students and others are taking great high resolution photos with their smartphones and other devices, many school yearbook committees still don't have access to them – until now. With our 3rd Party Photo Contribution feature, the yearbook committee will be able to receive more images from so many different sources and perspectives to compliment their photos, or when school photographers are unable to attend events.
Payne further noted that access to more images is a key way to help make the yearbook more relevant, as more memories are captured, and more school events are included.
"It's one thing for a student to point to his or her picture and say 'that's me.' It's an entirely different thing for a student to also say 'I took those pictures!' When students feel excited about the yearbook and that they're a part of the process, schools will discover that the traditional dilemma of having to store un-sold yearbooks in a closet – and go into debt – will be replaced by enthusiastic demand!"
Picaboo Yearbooks are created through a fun and easy-to-use web app that allows both individual student involvement and collaborative team-based contributions. In addition to purchasing the school-created yearbook, students can also personalize their cover and inside pages to make the yearbook even more meaningful and relevant to them. There are no minimum order requirements, and yearbooks are delivered within three weeks of order. Plus, starting in Spring 2013 students who don't wish to bring home a hardcover or softcover yearbook can create a no-cost eYearbook and view it on their PC, laptop, tablet or smartphone.
Schools that want to learn more about Picaboo Yearbooks can visit http://yearbooks.picaboo.com/ or email info(at)picabooyearbooks(dot)com
About Picaboo Yearbooks
Picaboo Yearbooks is a division of Picaboo: a premier provider of photo books. Picaboo Yearbooks believes that every school and student deserves a great yearbook, and is revolutionizing the yearbook industry through easy-to-use web app technology that empowers customers to: easily collaborate and create a personalized yearbook in no time; order as few or as many yearbooks as they need for the same affordable price; and have their top quality yearbooks shipped within three weeks. Schools and other customers can also create a professional, feature-filled eYearbook at no-cost, and easily setup a storefront to sell and manage yearbook sales online. Learn more at http://yearbooks.picaboo.com/.