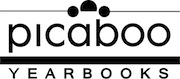 (PRWEB) January 30, 2013
Picaboo Yearbooks, a technology-led yearbook company that is revolutionizing the yearbook industry, has exciting news for schools that are under press to raise funds to support the yearbook program: it can now be a fundraiser, instead of a fund-taker.
Through Picaboo Yearbooks' groundbreaking business model that features no minimum pre-order and pre-payment requirements, schools no longer have to commit to high volume purchases and subsidize un-sold yearbooks through fundraising. Now, they can order only as many yearbooks as they need, whenever they need them. With no hidden costs, late fees or need to pay change fees, schools know exactly what the books are going to cost -- with no unexpected surprises.
Picaboo Yearbooks' yearbooks start at a refreshingly affordable $8.49 each, and schools can mark-up the base cost and sell at a higher retail price – which allows them to use the yearbook proceeds as a vehicle to support their fundraising efforts.
"Before Picaboo Yearbooks arrived on the scene, schools were forced to pre-order hundreds or thousands of yearbooks, and then cross their fingers and be under constant financial pressure to sell them all -- or go into debt" explained Bryan Payne, President of Picaboo Yearbooks. "It's no wonder why more and more schools are reluctantly dropping their yearbook program altogether. They simply can't justify the financial risk, and they're fed-up with fundraising to keep the yearbook program afloat. It's hard enough just to create the yearbook, and fundraising to cover the financial risk just adds to the long list of responsibilities."
"At Picaboo Yearbooks, we've permanently solved this dilemma. There's no minimum pre-order or pre-payment requirement. Schools can wait until they receive all student orders, purchase only what they need, and receive them within three weeks. Now, the yearbooks is guaranteed to be `in the black', and revenue from mark-ups and yearbook ads can go towards other important school programs and initiatives.
In addition, to help schools sell as many yearbooks as possible -- and raise as much money as possible -- Picaboo Yearbooks provides schools with a secure e-commerce storefront that allows them to automatically receive and process online orders 24/7. They can also access easy-to-use yearbook sales tracking tools.
"With our online storefront, schools no longer manage the financial details, because we handle it for them. And our marketing service department can even help them promote it to students and parents. Talk about completely changing the game!"
Schools that wish to transform their yearbook program from a fund-taker into a fundraiser, and at the same time provide their students with an affordable, professional, personalized and feature-filled yearbooks, can learn more by visiting http://yearbooks.picaboo.com/ or emailing info (at) picabooyearbooks (dot) com.
About Picaboo Yearbooks
Picaboo Yearbooks is a division of Picaboo: a premier provider of photo books. Picaboo Yearbooks believes that every school and student deserves a great yearbook, and is revolutionizing the yearbook industry through easy-to-use web app technology that empowers customers to: easily collaborate and create a personalized yearbook in no time; order as few or as many yearbooks as they need for the same affordable price; and have their top quality yearbooks shipped within three weeks. Schools and other customers can also create a professional, feature-filled eYearbook at no-cost, and easily setup a storefront to sell and manage yearbook sales online. Learn more at http://yearbooks.picaboo.com/.