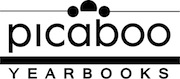 Menlo Park, California (PRWEB) August 08, 2012
Picaboo, a technology-led photo book firm based in Silicon Valley, has expanded into the multi-billion dollar yearbook industry. The move is part of the company's long-term vision to provide schools, parents of home-schooled children, community organizations, and other groups in local communities across the country with a personalized, simplified and on-demand yearbook solution.
"When we analyzed how to best expand our photo book offering, entering the yearbook industry was a natural fit," commented Bryan Payne, President of Picaboo's yearbook division, Picaboo Yearbooks. "The yearbook industry hasn't changed much in a very long time. Our goal is to revolutionize and revitalize the industry through our groundbreaking web app, production capacity, and fulfillment systems. We've raised millions of dollars to fuel this expansion and ensure that we do it right!"
Picaboo's yearbooks leverage groundbreaking web app technology that lets customers create a personalized yearbook in minutes. They can then order as few or as many yearbooks as they need for the same affordable price, have them shipped within 10 days instead of several months with traditional yearbooks, and avoid costly excess inventory. They can also utilize a suite of collaboration and communication tools that make the typically difficult yearbook creation process more efficient, enjoyable and rewarding for both co-located and remote production teams.
As part of its expansion into the yearbook market, Picaboo has been selling protected sales territories to approved Dealers via its Nationwide Dealership Network. To date, close to 70 territories have been sold, which is significantly ahead of expectations. It also makes the company's goal of having the entire country covered with over 500 dealers by mid 2013 virtually a foregone conclusion.
Added Payne: "In addition to very positive response from Salespreneurs and Mompreneurs who have applied to join our Nationwide Dealership Network, our solution has also been extremely well received by a number of schools that have come on board. Obviously, they can see that the winds of change are finally coming to the yearbook industry, and we're excited to be leading that charge and making things better, just as we did in the photo book industry."
More information on Picaboo Yearbooks is available at http://yearbooks.picaboo.com.
About Picaboo Yearbooks
Based in Silicon Valley, Picaboo Yearbooks is a division of Picaboo, a technology-led photo book leading firm with over 1 million active and satisfied customers. Our company is privately held, and our funding partners include several leading Silicon Valley venture capital firms.
At Picaboo Yearbooks, we believe that every student deserves a yearbook. Our leading-edge web app technology and print on-demand systems allow customers to completely personalize a yearbook in no time, order any volume for the same affordable price, and have yearbooks shipped within 10 days. Our customers can also utilize a suite of collaboration and communication tools to make the typically difficult yearbook creation process more efficient, enjoyable and rewarding.
We are also proud of our unique brand culture, which reflects a refreshingly fun way of doing business, exceeding customer expectations, and enabling individual and combined success. Driven by the core hallmarks of: Care, Quality, Value, Benefits, Service, Responsibility, Community and Fun, our brand culture is the dynamic expression of our essential spirit, an inspirational charter that guides our people, and a core element that differentiates us from every other company in the yearbook industry.
The name "Picaboo" is a play on the phrase peek-a-boo, which is a common expression that brings smiles to people's faces. Our use of the term reflects our culture, target market and mission.