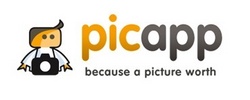 PicApp offers our bloggers tremendous selection in terms of the range and types of content they provide
SAN FRANCISCO & TORONTO (PRWEB) May 30, 2008
Once at http://www.picapp.com, bloggers can select any of the wide range of images for free and use them adjacent to a news post or editorial content on their sites. When the image is streamed from the PicApp servers, it comes with a non-intrusive ad that provides a monetization tool on the content owner's behalf.
"PicApp offers our bloggers tremendous selection in terms of the range and types of content they provide," said Jeremy Wright, b5media chief executive officer. "As content creators, ensuring all the images we use are legal is extremely important to us. PicApp has proven to be a valuable resource for the bloggers involved so far. We look forward to continuing to work together to develop a solution for the entire network, so that all b5media bloggers feel assured they are using legal images at all times."
b5media includes 12 vertical channels of blogs covering a wide variety of subjects ranging from entertainment, beauty and fashion to technology, general news and sports. Participating bloggers can find great breaking news photos of celebrities and athletes as they make history and pictures of tech industry breakthroughs moments after they are announced, as well as lifestyle stock photography shots on almost any topic imaginable. The b5media network is home to more than 250 bloggers and receives more than 10 million unique visitors per month.
"We were privileged to cooperate with the b5media team ever since we started our closed beta and are very proud they picked PicApp as a source of images for their many authors," Eyal Gura, chief executive officer, PicScout, said. "Getting their input early on, and now on an ongoing basis, has been instrumental in ensuring that the development of the PicApp platform is addressing the ever-evolving needs of bloggers."
PicApp is currently in beta. News and photo agencies licensing images to PicApp include Getty Images, Corbis and Image Source with more content partnerships coming soon. Interested bloggers can go to http://www.picapp.com to start getting images to enhance the content at their sites.
About PicScout
PicScout (http://www.picscout.com) is the leading technology services provider to the digital content industry. For years, the company's flagship ImageTracker™ has been the industry standard application for helping visual assets owners control and monitor the distribution of their proprietary images across all media. PicScout headquarters are in San Francisco. The company has a development and operations center in Herzelia, Israel.
About b5media Inc.
b5media Inc. is a global new media network featuring a wide variety of topics ranging from entertainment and lifestyles to sports and technology. With over 350 blogs, including Problogger, eBeautyDaily and Healthbolt, b5media reaches nearly 10 million unique visitors and receives 30 million page views a month. Launched in September 2005, b5media is a venture-backed company based in Toronto, Canada. For more information, visit: http://www.b5media.com
Technorati tags: PicApp, PicScout, celebrity photos, blogger applications, widgets, free images, images for blogs, breaking news photos, stock photography, copyrighted images