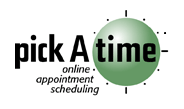 Providing free volunteer scheduling is our small way of supporting each and every one of the schools who use our appointment scheduling software
Bellevue, WA (PRWEB) July 31, 2011
PickAtime, a leading online appointment scheduling service, now offers free volunteer scheduling to schools using its Parent Teacher Conference Scheduler.
"Schools need our support," notes Anne Taves, Director of Client Services for pickAtime. "Todays public and private schools have a continuous need for volunteers, whether for Book Fair volunteers, Gala Night volunteers, school-wide assemblies and events, music and arts performances or athletic team practices and games. Providing free volunteer scheduling is our small way of supporting each and every one of the schools who use our appointment scheduling software."
More than 700 schools in the United States and around the world use pickAtime appointment scheduling software, including public and private elementary schools, middle schools and junior highs and high schools as well as community colleges. pickAtime's Parent Teacher Conference Scheduler allows schools to publish available time slots on their website so that parents and students can schedule appointments easily over the Internet.
In addition to providing parent-teacher conference scheduling, pickAtime also provides scheduling for guidance counselor appointments, school tours, summer school and drivers ed registration, admissions interviews, transportation scheduling, career fair appointments and prospective applicant testing.
PickAtime's online appointment schedulers free up school administrators from time-consuming pen and paper scheduling, allowing them to work on more important school matters. In addition, both administrators and teachers can easily monitor registration in advance of appointment dates and run reports afterwards.
PickAtime is an online appointment scheduling service offering organizations and institutions the ability to book appointments quickly, easily and efficiently over the Internet. The company served its first client, a flu shot provider, in 2001. Since then pickAtime has expanded from health care providers to schools, corporations and small businesses. For more information, visit http://www.pickatime.com or call 888-250-1945.
###