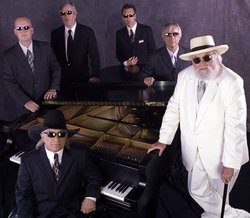 Blue Side Of The Blue Ridge
Martinsburg, WV (PRWEB) February 5, 2009
Pickin' in the Panhandle: The West Virginia State BBQ & Bluegrass Festival is pleased to announce its lineup for this year's two-day festival in which bluegrass musicians from across the country will showcase their mountain roots September 12-13 in Back Creek Valley, near Martinsburg, West Virginia, about a hour from Washington, D.C.
Sponsored by the Martinsburg-Berkeley County Convention and Visitor's Bureau, The Charlie Daniels Band will headline the 2009 event as the featured guest star.
The festival is pleased to also welcome back crowd favorites; Cadillac Sky, Lonesome Highway The Rolling Coyotes, Sleepy Creek and The Vaughn Family to its lineup. Mark Silver and The Stonethrowers, winner of the 2008 Pickin' in the Panhandle Bluegrass Band competition, is also part of this years' lineup.
New to the Pickin' in the Panhandle lineup this year are:
The Charlie Daniels Band - With a career spanning over five decades, The Charlie Daniels Band is famous for its contributions to southern and country rock music. In 2008, The Charlie Daniels Band released a bluegrass DVD Preachin', Prayin', Singin'.
Kenny and Amanda Smith Band - Winners of the International Bluegrass Music Association's prestigious Emerging Artist of the Year award in 2003, the Kenny and Amanda Smith Band combines gutsy, heartfelt vocals, brilliant instrumental talents and a powerful, contemporary sense of song choice and arrangement into one of the most compelling new sounds in bluegrass today.
The Dixie Bee-liners - With a cult following reaching far beyond their south-western Virginia stomping grounds, and a debut album voted one of the Reviewer's Top Five Picks by Bluegrass Now, Pinecastle Records recording artists The Dixie Bee-liners are creating quite a buzz.
Jett's Creek - The traditional bluegrass tunes, tight family harmony and incredible original material by Jett's Creek will definitely add a fresh perspective to what you have heard before. The band members have a long history in bluegrass and there is nothing like family harmony to give them their tight sound.
Out and Runnin' - O&R is an eclectic mix of soul/funk meets alternative bluegrass. O&R personalities are eccentric and engaging and can turn a song into a story that evokes every emotion from uncontrollable laughter to heart wrenching tears. Listening to them is not an experience you want to miss out on!
Junior Sisk & Ramblers Choice - Junior Sisk And Ramblers Choice are gaining great recognition as one of the best traditional bluegrass bands to hit the scene in decades. With the brand new release of their debut album on Rebel Records, "Blue Side Of The Blue Ridge", the band has once again captured something magical. The pleasant mix of old and new is sure to offer something here for everyone.
The Soul Pickers - The Soul Pickers are a six-piece bluegrass-gospel band from Hazel Green, AL. The band's journey together began in September of 2003, when three friends followed the Lord's leadership and formed the band. Since that time, the Soul Pickers have done over 450 dates, including special church singings, homecomings, and revivals. They have also had doors opened to places where gospel music is not so highly regarded, as well as numerous radio and television appearances.
Midnight Ramblers - The Midnight Ramblers got its humble beginning approximately three years ago and has since added accomplishment after accomplishment. Through their enthusiasm, hard work, God-given talent, and awesome stage presence that belies their youth, the Midnight Ramblers have a true ability to captivate audiences everywhere they go. The young group's combination of outstanding music and vocal skills leaves audiences with long-lasting memories that provides promise of a prosperous future.
Patent Pending - This six-piece Eastern Panhandle bluegrass band has been performing for captive audiences throughout West Virginia, Virginia and other surrounding states. The band just recently welcomed back Leigh Taylor-Kron on Bass. Taylor-Kron was one of the pioneering members of the band, and Patent Pending is pleased to have her back on board.
Andrea Ball, Executive Director of the Martinsburg-Berkeley County Convention and Visitors Bureau hopes the festial will draw music lovers of all ages, "We have an outstanding lineup of bands for Pickin' 2009 and with a two-day ticket price of $20 for adults and free for children under 12, we feel that we offer amazing value for our attendees in an uncertain economy."
For more information about the festival, visit the official website at http://www.PanhandlePickin.com.
###