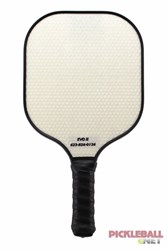 Deemed by Many As the Best Bang for Your Buck Pickleball Paddle
Denver, CO (PRWEB) December 06, 2013
Deemed by many as the "Best Bang for Your Buck Pickleball Paddle", the ZZT Sports EVO II is a quiet, high performance, no-frills paddle. The ZZT Sports EVO II has been added to the online database of products on PickleBall.net and is now available for review. An online resource available to all pickleball players, PickleBall.net offers detailed product information, product comparison, ratings and reviews, and locations to play pickleball.
The ZZT Sports EVO II pickleball paddle is produced from a 1/2" aluminum honeycomb core and natural composite (fiberglass) face, along with a protective edge and Gamma Ultra Cushion Textured grip. The EVO lineup is the evolution of 10 years of research and development from ZZT Sports, and are the best value in the industry. The EVO II is based off of the original classic design but with a rounder body and longer grip.
The retail price for the ZZT Sports EVO II Pickleball Paddle is $39, and is now available at SillyTown.com.
Visit PickleBall.net for detailed specifications, descriptions, and reviews on the ZZT Sports EVO II and over 80 other Pickleball paddles.
About ZZT Sports
ZZT (Zero Zero Two) Sports has been producing affordable, high quality pickleball paddles for over 10 years. Gold medalist Spike Christensen, wife Linda, and son Jerald have developed a strong business in the pickleball community and are known for producing a quiet, economical paddle without sacrificing quality or performance.
About PickleBall.net
The PickleBall.net community website offers players and enthusiasts a unique way to interact, providing detailed pickleball equipment listings, community ratings and reviews, places to play pickleball, and an online forum. We are people with a passion for Pickleball! Join the fun and play the fastest growing sport in North America!