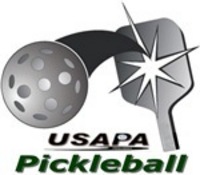 We are extremely excited to have pickleball introduced to the participants and visitors of the Arnold Festival
Columbus, Ohio (Vocus) March 5, 2010
The USA Pickleball Association is pleased to support the introduction of pickleball at the Arnold Active Living Festival on March 5th, 2010 at the Hyatt Regency and Battelle Grand.
Pickleball is a fun court sport played on a badminton-sized court with the net lowered to 34 inches at the center. It is played with a perforated plastic ball similar to a whiffle ball and wood or composite paddles about twice the size of ping-pong paddles. It can be played indoors or outdoors, is easy for beginners to learn – but can develop into a fast-paced, competitive game for experienced players. In addition to being fun, the game has developed a reputation for its friendly and social nature.
The Central Ohio Senior Olympics are introducing pickleball for the first time to the Arnold Active Living Festival in Columbus Ohio on March 5th, 2010. Open play and warm-up is being held from 9 a.m. to noon followed by competitive matches from noon to 5 p.m. A beginner clinic will be held at 10 a.m. Registration and check-in at the Hyatt Regency Hotel Ballroom with matches played in the adjacent Battelle Grand.
"We are extremely excited to have pickleball introduced to the participants and visitors of the Arnold Festival," said Bill Booth, President of the USA Pickleball Association. "The sport of pickleball is really catching on across North America and is particularly popular with seniors. Inclusion in the Central Ohio Senior Olympics is an exciting addition for pickleball players in the Columbus area."
The USAPA was created in 2005 to promote the sport. It maintains the official rules, sanctions tournaments, provides player rankings and produces the annual National Pickleball Tournament. It is run by a volunteer board of directors and supported by thousands of dues paying members.
The USAPA provides assistance through programs such as:

Ambassadors – over 300 regional and local ambassadors promote the sport at a local level, providing information and training.
Training Grants - The 2010 USAPA Grant program will provide funds to subsidize training programs for school students, local residents, organizations or individuals who are novices to Pickleball and do not belong to a Pickleball club or other organized group.
Pickleball 4 All – This program pairs USAPA volunteers with PE teachers, juniors and adults to mainstream pickleball as a lifetime sport.
More information about the USAPA can be found at http://www.USAPA.org. Additional information and story ideas are available from David Johnson at 888 854-0163 or david@pickleballcentral.com.
###