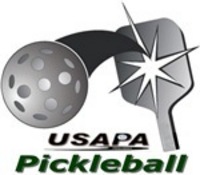 We are extremely excited about the first International Pickleball Week
Seattle, WA (Vocus) May 28, 2010
The USA Pickleball Association (USAPA) is pleased to support International Pickleball Week, June 1-7, 2010. A court game of angles and strategies, of position and speed, pickleball is enjoying huge increases in popularity with seniors, school kids and families. During the week starting June 1st the USAPA will be holding events throughout the United States to celebrate the sport and introduce it to new players.
Pickleball is a fun court sport played on a badminton-sized court with the net lowered to 34 inches at the center. It is played with a perforated plastic ball similar to a whiffle ball and wood or composite paddles about twice the size of ping-pong paddles. It can be played indoors or outdoors, is easy for beginners to learn – but can develop into a fast-paced, competitive game for experienced players. In addition to being fun, the game has developed a reputation for its friendly and social nature.
Pickleball is played by all ages. It is a popular sport in schools and senior centers. The smaller court size and inter-generational appeal makes it perfect for backyard courts. It has great health and fitness benefits for all. It is also becoming popular with persons with disabilities.
To celebrate pickleball at the local level, the USAPA, through over 300 regional and local Ambassadors, will be:

Holding introduction clinics
Staging tournaments
Holding celebrity pickleball matches
"We are extremely excited about the first International Pickleball Week," said Bill Booth, President of the USA Pickleball Association. "The sport of pickleball is really catching on across the world and is particularly popular with seniors. We intend to celebrate the growth of the sport with our fellow players throughout the world, including locations in Canada, Mexico and India."
The USAPA was created in 2005 to promote the sport. It maintains the official rules, sanctions tournaments, provides player rankings and produces the annual National Pickleball Tournament. It is run by a volunteer board of directors and supported by thousands of dues paying members.
The USAPA provides assistance through programs such as:

Ambassadors – over 300 regional and local ambassadors promote the sport at a local level, providing information and training.
Training Grants - The 2010 USAPA Grant program will provide funds to subsidize training programs for school students, local residents, organizations or individuals who are novices to Pickleball and do not belong to a Pickleball club or other organized group.
Pickleball 4 All – This program pairs USAPA volunteers with PE teachers, juniors and adults to mainstream pickleball as a lifetime sport.
Industry Education – The USAPA provides speakers to introduce and demonstrate the sport to industry associations and other interested groups on a local, regional and national basis.
More information about the USAPA can be found in the media center at http://www.USAPA.org. Additional information and story ideas are available from David Johnson at (253) 854-0163 or media(at)USAPA(dot)org.
###