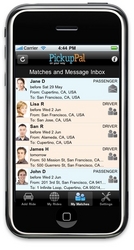 "This iPhone app is fundamentally going to change the immediacy of ridesharing and unleash PickupPal's full matching potential," comments John Stewart, CEO of PickupPal.
Toronto, Canada (PRWEB) May 5, 2010
A new mobile transportation dispatcher now becomes a reality for millions of commuters, carpoolers, ridesharers and casual hitch-hikers around the world. Today, PickupPal Inc., operators of the very popular and growing rideshare service found at http://www.pickuppal.com , announce the release of their iPhone® app.
This new app will immediately allow members to use PickupPal on their iPhone and iPod touch® devices. This release incorporates many of the features of PickupPal's wired site and leverages the iPhone's GPS, mapping and texting capabilities through an intuitive user interface. Users can now find instantaneous matches based on their current location and trip request while on the go.
"This iPhone app is fundamentally going to change the immediacy of ridesharing and unleash PickupPal's full matching potential," comments John Stewart, CEO of PickupPal. "By its very nature, PickupPal needs to be able to provide instant matching based on a dynamic and ever changing mobile location and offer immediate communication between members – with the iPhone it's all here and more," adds Stewart.
"With so many music fans using smartphones on a daily basis, it is essential that services like ridesharing be offered, with ease, through a mobile platform," comments Adam Gardner, long-time PickupPal partner and co-director of Reverb, an organization dedicated to greening music tours and conducting grassroots environmental outreach. "We're psyched that fans can connect with each other for these large-scale events and be empowered to reduce CO2 by finding a matched ride with PickupPal's mobile app," adds Mr. Gardner.
PickupPal has been able to deliver this app to the market quickly through a key technology partnership with Intelliware Development based in Toronto. "We created this partnership because of PickupPal's leadership position in the social networking, eco-friendly ridesharing space," comments Glen Johnson, SVP Intelliware. "We knew we could make a significant impact on their business by quickly building them a high quality mobile app. We've invested in PickupPal through our Product Ventures business as part of this effort, which speaks to our excitement and commitment to this green project."
In the future, PickupPal plans to add several other popular mobile platforms to its roster of supported devices – with the iPad™, Blackberry® and Android™ next on the list.
The PickupPal iPhone app is available now for free on the App Store at http://itunes.com/apps/pickuppal
About PickupPal:
PickupPal provides a service to match drivers and passengers anytime, anywhere based on their profile preferences and route, operating very much like an online dating service. Launched in January 2008, PickupPal has members in 50+ countries, who use PickupPal to share the costs of driving, reduce traffic congestion, and be good to the environment.
See PickupPal in Action: http://www.pickuppal.com/pup/video.html
About Intelliware Development Inc.:
Intelliware is a custom software and product development company headquartered in Toronto, Canada. Intelliware is a leading practitioner of Agile software development practices which ensures the delivery of timely, high quality solutions for their clients. Intelliware specializes in version 1.0 products, replatforming of enterprise systems and the development of mobile applications. Intelliware is engaged as a technical partner by a wide range of local, national and global organizations in sectors that span financial services, e-Health, retail, manufacturing, and government.
More information about Intelliware is available at http://www.intelliware.com
Apple, the Apple logo, iPod, iPod touch, iPad, and iTunes are the trademarks of Apple Inc., registered in the U.S. and other countries. iPhone is a trademark of Apple Inc. App Store is a service mark of Apple Inc.
The BlackBerry and RIM families of related marks, images and symbols are the exclusive properties and trademarks of Research In Motion Limited.
Android is a trademark of Google Inc. Use of this trademark is subject to Google Permissions.
For media information, please contact:
PickupPal
John Stewart, CEO
416-919-3199
media(at)pickuppal(dot)com
Intelliware
Glen Johnson, SVP Product Ventures
416-762-0032 ext 268
glenj(at)intelliware(dot)com
###