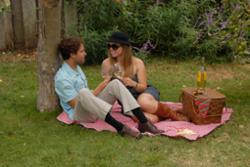 Fine wine is meant to be drunk with good food, and vice versa,
Los Gatos, CA (Vocus/PRWEB) June 07, 2011
The Picnic Guild, a Bay Area catering company that provides gourmet picnics for wine lovers to enjoy with their tours of vineyards in the Santa Cruz Mountains, is celebrating their first anniversary with a big picnic at the Lakeview picnic area of Lake Vasona Park in Los Gatos. The event is being held on June 10 from 5 to 7 pm. Light antipasti will be served.
The Picnic Guild is a unique business model (patent pending), catering picnics to groups that visit select wineries and venues that are members of The Picnic Guild. The Bay Area catering company was formed last year by Renée Guild and her daughter Jessica. Inspired by Renée's experience as a chef in a French restaurant in Santa Rosa, as well as picnic experiences throughout the world, particularly in Italy, New Zealand and the Sierra Nevadas, the mother/daughter team believed that visitors to wineries in the Santa Cruz mountains would value a fine picnic lunch to enhance their experience of the wines.
"Fine wine is meant to be drunk with good food, and vice versa," says Renée Guild, head chef and co-founder, "and yet most wineries cannot sell food on their premises. Many of the wineries in the Santa Cruz Mountains are far from the nearest restaurant, or even grocery store. So we think our business model offers the perfect pairing, if you will. We supply delicious food—the wineries supply beautiful wines. It's a great marriage."
Winery visitors pre-order picnic food 24 hours in advance from The Picnic Guild's website, http://www.thepicnicguild-bayarea.com, and it will be delivered to the Picnic Guild member winery of choice at no charge. There are seven Picnic Guild Member locations, which include:

Byington Vineyard and Winery, high in the Santa Cruz mountains
Cooper Garrod Estate Vineyards, near Saratoga
Fleming Jenkins Vineyards and Winery, which has a tasting room in downtown Los Gatos
Montalvo Arts Center, a historic villa on 175 acres in Saratoga
Picchetti Winery, near Cupertino, near several parks and hiking trails
Regale Winery and Vineyards, one of the newest Santa Cruz mountain vineyards
Uncorked! Wine Shop, in Saratoga Village
Like in the Renaissance, where guilds were formed to provide special crafts and the finer necessities of life, The Picnic Guild's food is artisanal and beautifully hand crafted. Everything is made from scratch, with organic and seasonal ingredients, and comes packaged in compostable containers. The picnics are delivered to each participating winery or venue, in completely self-contained, handled boxes, designed to be transported from one winery to another.
The Picnic Guild's menus change with the seasons, and feature a several three-course menus to choose from, including antipasti such as Smoked Trout Rilettes or Eggplant Caponata, both served with crostini. Main course entrees may include Turkey Saltimbocca Alla Romana with Sage Pesto and Truffled Mushroom Risotto Cakes or Chardonnay Grilled Shrimp with Basil Pesto and Saffron Risotto Cakes. Current dessert choices may include Dried Fig and Almond Cakes, Chocolate Walnut Squares, or Almond Monet Cakes. The Picnic Guild also offers an Antipasti Picnic, with a choice of two appetizers and a dessert; the Children's Picnic or Afternoon Tea Picnic; and a Vegetarian Picnic.
For more information about The Picnic Guild's first anniversary celebration or any of The Picnic Guild's products or services, call them at (650) 862-8289 or view them on the web thepicnicguild-bayarea.com. Become a fan on Facebook at http://www.facebook.com/home.php#!/pages/The-Picnic-Guild/122658327773775.
About The Picnic Guild
The Picnic Guild is a Bay Area catering company that delivers artisanal picnic baskets to Santa Cruz mountain wineries and venues so visitors can enjoy a gourmet picnic with their wine tastings or other "al fresco" experiences. Founded by the mother/daughter team Renée and Jessica Guild, their mission is to provide freshly made meals to accompany the wine tasting experience, musical events and other outings in the Santa Cruz Mountains.
###