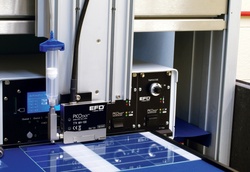 EAST PROVIDENCE, R.I. (PRWEB) January 29, 2008
As medical devices, electronics, cell phones and many other products continue to put more and more features into smaller and smaller packages, manufacturers need new ways to apply adhesives, coatings and other assembly fluids in smaller, more precise amounts than ever before.
The PicoDot jet dispensing systems bring significant new capabilities to EFD's extensive line of precision fluid dispensing systems. Because the PicoDot systems do not contact the substrate, they will enable manufacturers to deposit controlled amounts of fluid on hard-to-access areas, uneven surfaces, or in applications where a conventional dispensing needle cannot be used--at speeds up to 150 dots per second.
Multiple PicoDot system configurations make it possible to dispense a wide variety of low (50-1,000mPas), medium (50-200,000mPas), and high (1,000-500,000mPas) viscosity fluids in a wide range of manufacturing applications.
Capabilities of the PicoDot Jet Dispensing System include:
-- Non-contact jetting, including three-dimensional substrates
-- Covering areas with droplet arrays, with shot size starting at 0.002 ul (2 nl) to flow rates up to 300 g/min (10 oz/min)
-- Optional precision needle adapter allows contact dispensing with excellent consistency and highest positioning precision
-- Integrated heater available for precise viscosity control
EFD's products are available through their worldwide network operating in over 30 countries. For more information, contact EFD at 800-556-3484, +1-401-434-1680 or visit http://www.efd-inc.com.
EFD, Inc. is a wholly owned subsidiary of Nordson Corporation. Since 1963 EFD has designed and manufactured precision dispensing devices for applying controlled amounts of the adhesives, sealants, lubricants and other assembly fluids used in almost every manufacturing process.
Nordson Corporation is one of the world's leading producers of precision dispensing equipment that applies adhesives, sealants and coatings to a broad range of consumer and industrial products during manufacturing operations. The company also manufactures equipment used in the testing and inspection of electronic components as well as technology-based systems for curing and surface treatment processes. Headquartered in Westlake, Ohio, Nordson has more than 4,000 employees worldwide, and direct operations and sales support offices in 30 countries.