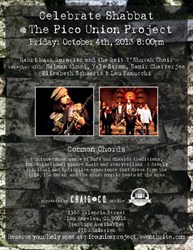 The evening promises to be a deeply spiritual and meditative experience that draws from the Bible, the Koran, and the great mystic poets of the ages.
Los Angeles, CA (PRWEB) September 24, 2013
The Pico Union Project and Craig 'N Co. will present Common Chords, a multi-faith Shabbat service and concert featuring Rabbi Mark Borovitz and the Beit T'Shuvah Choir, on October 4, 2013 at 8 p.m. at Pico Union.
Rabbi Mark Borovitz, leader of the Beit T'Shuvah recovery program, and the Beit T'Shuvah Choir, will join world musicians Salman Ahmad, Yael Strom, Samir Chatterjee, Elizabeth Schwartz and Lou Fanucchi and present a unique convergence of Sufi and Khasidi traditions through improvisational trance music and storytelling. The evening promises to be a deeply spiritual and meditative experience that draws from the Bible, the Koran, and the great mystic poets of the ages.
"I'm so excited to present our first concert at the Pico Union," says Craig Taubman, owner of the Pico Union. "We just wrapped up our highly successful Downtown Holy Days and I'm thrilled to start fleshing out our performing arts program."
Tickets for Common Chords are available at picounionproject.eventbrite.com. Admission is $15.
Pico Union is located at 1153 Valencia Street in downtown Los Angeles. Dedicated parking is available.
For more information about Common Chords or the Pico Union Project, please contact Craig 'N Co. at 818.760.1077 or Kendall Dill at kendallgdill(at)gmail(dot)com.
About Craig Taubman
Craig Taubman began his career at the tender of age of 15 when he picked up a guitar and began to lead music at Camp Ramah in Ojai, California. His musical styling has made his recordings an integral part of the Jewish community including his top-selling release, Friday Night Live, composed for a special Shabbat service held once a month at Sinai Temple with Rabbi David Wolpe in Los Angeles. His extensive musical catalog consists of over 50 recordings featuring everything from Celebrate: Jewish Lullabies to Rock'n Toontown, featuring backup vocals with Mickey and Minnie. Craig has also enjoyed a successful career in television and film, composing and directing music for the Fox children's series Rimba's Island, the critically acclaimed HBO animated series Happily Ever After and Shari Lewis' PBS series, Charley Horse Pizza. His music has been featured at the Coca Cola Olympic Pavilion in Atlanta as well as in the Paramount Pictures feature film Andre, New Line Cinema's Pinocchio, and Disney's animated short film, Recycle Rex. His songs have been recorded by such respected artists as Chita Rivera and Jennifer Holliday. Craig's sell-out concerts draw thousands of fans at such respected venues as Ravinia in Chicago, Valley Forge in Pennsylvania, Westbury Music Fair in New York, the Greek Theater in Los Angeles and three special performances at the White House.
About Pico Union
Originally built by Sinai Temple in 1909, the Pico Union is the oldest synagogue building in Los Angeles. For 88 years, it was lovingly preserved by the Welsh Presbyterian Church. Now, the building is embarking on a new beginning as an interfaith community center, fulfilling the ancient Jewish value of being "a light unto the nations." Centrally located in the heart of Los Angeles, the Pico Union is ideally situated to be a center of culture, arts, social justice and learning. It is a place where people of all faiths and walks of life come together to celebrate Holy days, holidays, and the holy in the every day. Pico Union is about thriving, not just surviving, about respecting the rituals of the past while boldly imagining a more vibrant future. It will be a courageous place that opens its doors to people of all faiths and backgrounds, a place that honors each other's humanity and that works to spread a message of inclusion through music, dance, prayer and communal celebration.
About Beit T'Shuvah
The mission of Beit T'Shuvah is to restore lost souls and return them to themselves, their families and the community through a healing community of Jewish spirituality, 12 Step recovery and psychotherapy. Their vision is to reduce the incidence of addiction and other harmful behaviors through individual and family education. The Beit T'Shuvah campus is a homey setting located in West Los Angeles where approximately 120 residents interact with clinical staff in a healing atmosphere that emphasizes faith-based recovery and the values of the Jewish community. Addiction is a disease of the body, mind and spirit and Beit T'Shuvah offers a dynamic program to meet the individual needs of each resident in every stage of recovery.
About Salman Ahmad
Born in Lahore, Pakistan, Salman Ahmad is one of South Asia's most influential cultural figures, as well as a musician, physician and United Nations goodwill ambassador. With his wife Samina, he launched an NGO called the Salman & Samina Global Wellness Initiative, focused on interfaith and cross-cultural dialogue, global health and wellness, and music education. Ahmad founded the band Junoon ("the U2 of South Asia") in 1990 and went on to popularize a blend of Western rock music and Eastern/Islamic music that has been called "Sufi rock" and that has been hailed as a cultural bridge within South Asia and between the East and West. Ahmad has performed and recorded with such luminaries as Melissa Etheridge, Alicia Keys, Sting, Earth Wind and Fire, and Wyclef Jean. He has performed for the U.N. General Assembly Hall—the first such rock performance there - and at the Nobel Peace Prize ceremony in Oslo. Ahmad is also a professor at Queens college (CUNY) where he teaches music and poetry from Muslim culture and received an honorary doctorate from the Claremont Graduate University.