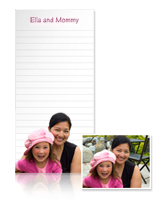 "I think they're absolutely fabulous. Look at this one, I use it for grocery lists, it's my Isaboo, isn't that great?" Rachael Ray
Ridgefield, CT (PRWEB) April 14, 2010
PicPads is pleased to announce a 20% off sale on all products purchased Thursday, April 15th to Monday, April 19th. PicPads, custom designed pads and stationery using a favorite photo, are the perfect choice for any gift-giving occasion and offer a variety of customizable options under $50. The superior paper stock, state-of-the art printing process, professional packaging and reasonable prices make PicPads an upscale gift with universal appeal.
PicPads founder Laura Eiman, created this special offer as "a way to reward people for making it through what many consider a stressful process by giving them the chance to share joyful memories with friends and family and keep a little something in their pockets." PicPads, custom designed photo NoteCards, NotePads, ShoppingListPads, KidPads, and FunPads, are available at a 20% discounted rate when purchased Thursday, April 15th through Monday, April 19th. This offer is just in time for Spring's many gift-giving celebrations, such as Mother's Day, Father's Day, graduation celebrations, weddings, teacher's gifts and anniversaries.
Simply upload or mail in a favorite photo, choose a layout, add a personal message and let PicPads handle the rest. PicPads also offers Design Tips and How-To's to guide customers through the selection and ordering process to ensure the best results. Every order is individually designed by a PicPads-trained graphic artist to guarantee the highest quality and attention to detail, resulting in a mini, portable personalized work of art. The final design reflects the special personality of the photo provided.
As a busy single mom, Eiman knows the value in finding meaningful and affordable gifts that are easy to order. With a variety of products under $50, PicPads are just that, a perfect solution, available 24/7, for anyone on budget and with limited time on their hands. PicPads also offers volume discounts to corporations, non-profits, schools, and resellers. PicPads are an effective marketing tool that can be used for fundraising, creating brand awareness, or promoting an event. The 20% Off Tax Day Reward makes PicPads an even more economical choice in this gift-giving season.
The exceptional paper, advanced printing process, expert packaging and economical prices make PicPads high-quality gifts with widespread appeal that have even been used by Oprah Winfrey and Rachael Ray, who said "I think they're absolutely fabulous. Look at this one, I use it for grocery lists, it's my Isaboo, isn't that great?" on The Rachael Ray Show, December 13, 2007. PicPads are easy to order online at picpads.com/taxday20.php.
# # #