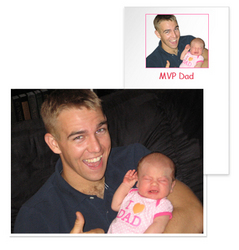 He's in Afghanistan and missing his new baby and wife like crazy. I know this MVP Dad title will list his spirits a lot!
Pocono Lake, PA (PRWEB) June 18, 2010
Ryan was nominated by his mother Maggie Garcia-Schubert of Miami, FL. Along with a photo of the smiling dad with one-month old Catharine, nick-named "Catie", Ryan's proud mother submitted the following description:
Ryan Schubert, Army Ranger deployed to Afghanistan just after becoming a dad for the first time not only participated in the birth, but arranged for someone to always be with Mommy, kept house, changed diapers and watched the baby while Mommy rested- all while readying his platoon to deploy.
When PicPads contacted Maggie to let her know that her son had been voted MVP, she exclaimed "THAT IS WONDERFUL!! I'm going to send my son Ryan an email right away. As you know, he's in Afghanistan and missing his new baby and wife like crazy. I know this MVP Dad title will list his spirits a lot! Thanks so much!"
In honor of all the great fathers, PicPads founder Laura Eiman created this special award as a way to "show appreciation for the big and the little things dads do everyday." Nominations were open to the public by simply submitting a photo along with a description of why this particular dad was an MVP. Five finalists were chosen by an expert panel; judging was based on the photo and the reason as to why this particular father inspired the nomination. The winner was then decided by public vote on picpads.com. Photos and descriptions of the winning MVP father and the other four finalists can be found on http://picpads.com/photocontest.php.
Maggie Garcia-Schubert, for nominating the winning father, receives a $50 PicPads Gift Certificate. The nominators for all five Finalists receive a set of color PicPads featuring the submitted photo.
With a variety of products under $50, PicPads are a perfect way to personalize your correspondence or to create a custom-made gift. PicPads can be ordered 24/7, for anyone on budget and with limited time on their hands. PicPads also offers volume discounts to corporations, non-profits, schools, and resellers. PicPads are an effective marketing tool that can be used for fundraising, creating brand awareness, or promoting an event.
The exceptional paper, advanced printing process, expert packaging and economical prices make PicPads high-quality gifts with widespread appeal that have even been used by Oprah Winfrey and Rachael Ray, who said "I think they're absolutely fabulous. Look at this one, I use it for grocery lists, it's my Isaboo, isn't that great?" on The Rachael Ray Show, December 13, 2007. PicPads are easy to order online at http://www.picpads.com.
###