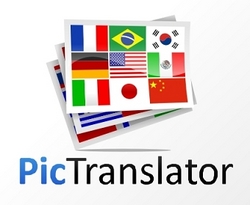 We hope PicTranslator improves the foreign traveling experience and offers travelers a little help along the way
Seattle, WA (PRWEB) October 22, 2009
Fotozio, LLC launched the first free iPhone photo translator application, PicTranslator, which turns the iPhone camera into a point-and-shoot translator. Foreign road signs, menus, maps, etc., can be translated with the push of a button - no phrasebook lookups or typing of foreign text required to understand and read printed text.
Foreign travel can be challenging, especially when travelers haven't mastered the native language. Being able to quickly and easily translate foreign text, whether it's a directional sign or newspaper articles, means travelers have increased confidence in their ability to manage language barriers.
Travelers simply take a picture of the text to be translated with their iPhone; crop the picture to include only the text to be translated; and press the translate button. Within seconds the translated text appears on their iPhone in English. The first release of PicTranslator supports text translation from Czech, Dutch, Danish, Finnish, French, German, Greek, Hungarian, Italian, Norwegian, Polish, Portuguese, Russian, Spanish, Swedish and Turkish into English. Pronunciation of the original text is available for French, German, Italian, Portuguese and Spanish languages.
"We hope PicTranslator improves the foreign traveling experience and offers travelers a little help along the way," said Justin Wilcox, CEO, Fotozio, LLC. The development team at Fotozio will look to their customers for input on how to continue to enhance future versions of PicTranslator. "Continual improvement of translation accuracy is the highest priority for the entire Fotozio team. In the right conditions, PicTranslator can be extremely accurate today. Of course in unfavorable conditions, like trying to translate a handwritten menu in low lighting, the current technology does not allow for accurate translations. As the technology matures, we're looking forward to providing even more accurate translations in more situations."
The PicTranslator video shows the app in action. PicTranslator is available through the iTunes App Store.
About Fotozio, LLC
Founded in April, 2009, the executive team of Fotozio has a broad technology and business background, with Justin Wilcox and Aaron Jensen, both graduates of Cal Poly San Luis Obispo and former Microsoft employees. Terry Wilcox, a CWU graduate, has an IT background in the healthcare industry and has been an independent consultant and business owner for several years.
Fotozio is focused on developing high quality mobile applications that address real world challenges.