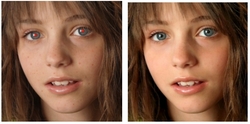 Alexandria, VA (PRWEB) August 13, 2009
PicTreat is here to help amateur and professional photographers to enhance people shots without charging them an arm and a leg. The new service makes human skin look smooth and healthy by automatically removing skin imperfections and applying color adjustments that make pictures look their best.
PicTreat automatically detects human faces in the photo, removing red eyes from the pictures without users having to make an extra click. The service is so fast that it only takes a few seconds between uploading a picture and seeing its improved version!
PicTreat recognizes pictures taken with a digital SLR, point-and-shoot, mega-zoom or mobile phone. By applying different treatments to images taken with different tools, PicTreat offers individual approach to every photo uploaded.
Pictures taken with mobile phones can sometimes exhibit blotchy color noise. For PicTreat it is easy to remove, making phone-taken images look their best. The service corrects for varying lighting conditions by correcting imperfect color balance, making pictures look warm and inviting instead of being cold and dark.
Even images taken with a webcam can look better when treated by PicTreat! Human faces lit with computer monitors in a dark room can look anything but pretty. PicTreat compensates for this lighting condition and enhances other picture properties, making the image look its best no matter what tool was used to take it.
Thanks to advanced biometric technologies developed by Luxand, Inc, skin imperfections such as pimples, wrinkles, and freckles are easy to remove completely automatically. PicTreat smoothens the skin without making it look blurry or plastic, resulting in natural, healthy looking skin, a process which was done manually by Photoshop professionals until now.
Images produced by PicTreat can be easily used in various photo sharing sites and social networks. PicTreat even allows cropping in correct dimensions for using the image as a social network profile picture. It is easy to produce a pof an ordinary snapshot!
PicTreat is a free service available at http://pictreat.com
About Luxand, Inc.
Founded in 2005, Luxand Inc. is a privately held hi-tech company developing various facial recognition and transformation tools. Performing scientific research in artificial intelligence and biometric identification allowed the company to develop technologies and release a complete set of tools and libraries to perform fully automatic recognition of human faces and their facial features. Today, the company markets a broad range of facial feature recognition solutions to online entertainment industry. Luxand technologies are used at online entertainment portals, chat rooms and movie Web sites around the globe.
About Goldfinger Applications, Ltd.
Founded in 2008, Goldfinger Applications, Ltd. specializes in developing and supporting software platforms for a variety of social applications and social networks.
###