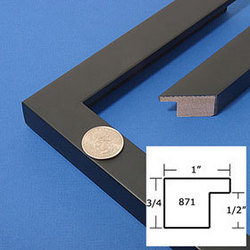 Dallas, Texas (PRWEB) February 13, 2009
Frame Destination Incorporated announces the addition of Bainbridge 4ply Alphamat in colors, as well as new black wood frames, to their unsurpassed line of framing supplies. Specializing in fine-art photography frames, Frame Destination also offers framing components and photo storage solutions.
Frame Destination CEO and president Mark Rogers, himself a photographer, understands from experience the challenges facing fine art photographers in terms of finding appropriate frames for their artwork. Finding ready made frames in appropriate sizes was a problem that he faced in framing his own artwork; discovering that other photographers faced similar stumbling blocks, Frame Destination was born.
Today Frame Destination offers a wealth of different picture framing supplies, including metal and wood frames in complete kits as well as ready or custom made, mat board, mount board, glass and acrylic glazing, picture frame mouldings, and storage supplies such as boxes, bags, print sleeves, CD and DVD storage, and acid-free tissue. Frame Destination's versatile line of products lets professional photographers, gallery owners and home hobbyists alike find framing and matting supplies suitable for their purposes.
Frame Destination has answered the call for a top quality color Bainbridge mat board with the new Bainbridge 4ply Alphamat in a wealth of vibrant colors. Providing artists with twenty four vivid shades, the Bainbridge mat board is also a museum-quality mat board that will help to protect artwork from harmful acids.
Because fine art photographers prefer black frames for their artwork, Frame Destination is also pleased to offer six new black wood picture frame profiles. Featuring a smooth matte black finish, they range in size from one inch to two inches wide, with a variety of rabbet sizes.
About Frame Destination Incorporated:
Frame Destination Incorporated is an online supplier of fine art photography frames and framing supplies.
Contact:
Mark Rogers, CEO and President
Frame Destination Incorporated
1-877-537-2637
# # #