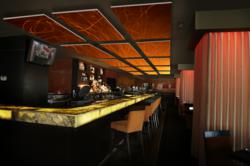 What's more amazing than the collapse in noise is the stunning visual effects that the panel system produced for our space. Thank you PicturePanels.com!
(PRWEB) September 26, 2011
PicturePanels.com, a company dedicated to providing customers with stylish and functional soundproofing treatments for bars, restaurant and nightclub industries, just launched their new website. The new website introduces a unique custom visual sound panel system for owners who seek better acoustics within their space without compromising on the room's design. With more than 15 million image options to shop on the website, clients have limitless design options available to them to dress their space for visual and acoustic success.
"We're excited to provide this service to our customers. No longer will a bar or restaurant owner have to compromise the design of their space in order to mitigate their noise" says Mark Rustad, owner of PicturePanels.com. "These sound panel systems offer great quality sound, while providing stunning visual presentations customized to every space we treat. What makes our website stand out is the library of images that our clients can shop, and the panel presentations they can select from to compliment their wall or ceiling space. The bottom line, by protecting their sound, while adding visual appeal to their establishment, we protect their repeat business."
PicturePanels.com supplies custom imaged sound panel systems, which introduce stunning visual panel systems into a space. These panels add unique designs to a room while absorbing the background noise. The panels look fantastic, control crowd noise, reduce customer complaints and protect repeat business for the owner. No longer do their patrons have to strain to hold conversations. Clients can self design their panel systems or access the Design Team at PicturePanels.com to package their treatment. Up to 70% of unwanted echoes in the room can be captured and converted.
PicturePanals.com makes their client's needs a priority. Bill Ollman of Ollman Construction, a recent satisfied customer says, "The results were phenomenal. Outstanding. I knew I could expect some kind of result having agreed to spend the money, but I had no idea how well these panels would perform. The treatment worked, and we couldn't be more pleased."
PicturePanels.com is a soundproofing design firm based in Minneapolis, MN. For more than 20 years, PicturePanels.com has been packaging sound proofing treatments for a variety of commercial, industrial and residential applications. As a result of designing more than 10,000 sound panel projects, they built PicturePanels.com to target the one industry niche with the poorest of room acoustics: loud bars, restaurants and nightclubs.
And they've met that challenge with an exclusive visual sound panel system that customers will only find at PicturePanels.com. Clients sort through 15 million image options that PicturePanels.com prints onto the face of their sound panels. The visual presentation of the panel systems are stunning, and a welcome relief to the bar and restaurant community. Owners can also submit their own graphics, images and logos to be printed onto the face of their sound panel systems.
About PicturePanels.com:
Our mission statement at http://www.PicturePanels.com is simple. Our goal is to help you make your space look great and sound even better. Your sound panel treatments will be custom tailored to please the eye and soothe the ear. Wall or ceiling mounted, your panel system will control crowd noise, lower decibel level exposure, produce more favorable musical tones and deliver greater clarity to speech. No longer will your customers strain to hold conversations—your room's acoustics will sound great and your repeat business is secure.
To get started, grab your room's dimensions and call their help desk today.
Contact:
Mark Rustad
1-800-600-6715
help(at)PicturePanels(dot)com
###