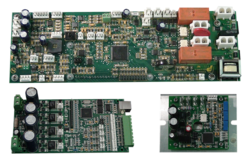 Oven Industries offers three different types of PID temperature controllers.
Mechanicsburg, PA (PRWEB) May 16, 2013
Oven Industries, Inc. has been an industry leader in pid temperature controllers and temperature sensors since 1964. Expertly designed, the proportional-integral-derivative PID temperature controllers are widely used in industrial control system applications. As one of the most commonly used feedback controllers, the device includes a generic, control loop feedback system, which helps minimize errors. With three-term control, the units are expertly used to adjust a systematic process, using a control element, like a valve or the power supply to a heating element.
Oven Industries offers three different types of PID temperature controllers: AC load control, DC load control and AC/DC custom solutions.
All with fine-tuned algorithms, the PID temperature controllers can provide control action designed for specific purposes. Traditionally, these devices are also known as some of the best controllers on the market today.
A PID temperature controller will be called a PI, PD, P or I controller in the absence of the respective control actions. PI controllers are fairly common, since derivative action is sensitive to measurement noise.
Oven Industries has many unique options for customized, industrial quality PID temperature controllers and sensors. All products are designed by experts and have been used in a wide variety of applications, including commercial, industrial, military, medical equipment and food processing.
For more information, visit http://www.ovenind.com.
Media Contact
Rose Wescott
717-766-0721
r.wescott(at)ovenind(dot)com