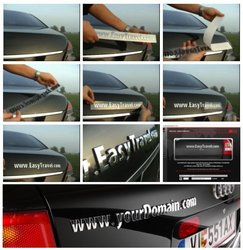 Americans love their cars, and adding a business or domain name or personal expression through the use of PIDPLATES is a great way to increase exposure
Atlanta, Ga. (Vocus) October 22, 2009
PIDPLATES USA, Inc., the North American importer of PIDPLATES, enters the automotive-friendly North American market with unique business signs made to order from car emblems. As an alternative to car magnets and vanity plates, PIDPLATES located on the rear of the vehicle advertise businesses of any size, from fleets to home based companies, looking for a new and different appearance for their mobile business signs.
Already a success in Europe, PIDPLATES – short for Personal Identification Plates – is an elegant but simple design that has been a fixture on European highways and roads for the last six years. Similar to the original equipment car emblems that designate make and model on the back of a car, PIDPLATES allows the business owner or car enthusiast to attach their business or organization name, web address, product name, slogan, or message to any vehicle.
"Americans love their cars, and adding a business or domain name or personal expression through the use of PIDPLATES is a great way to increase exposure," said Mark Eijsvoogel, President of PIDPLATES USA. "Our chromed car emblems are easy to apply and give a professional and personal touch to every vehicle."
PIDPLATES are constructed from the same high-quality materials found on major car models so it appears as part of the original vehicle. Since each PIDPLATE is chrome-plated, it cannot be damaged by weather and includes a 10-year warranty. The three-dimensional letters, numbers and symbols available to choose from are layered between two adhesive sheets, perfectly spaced and ready to apply. If the PIDPLATES needs removal, a plastic spatula completes the task.
While PIDPLATES are perfect for individuals wanting to add a personal touch to their automobile or boat, PIDPLATES are ideal business signs for promotional campaigns or company recognition. Whether used as a company description or a catchy slogan, PIDPLATES "mini mobile billboards" provide valuable exposure with every trip the vehicle makes. Businesses or companies with fleet vehicles – like real estate brokers, car dealers, entrepreneurs or service companies - benefit from PIDPLATES polished chrome business signs.
About PIDPLATES USA
Founded early 2009 in Atlanta, GA by Mark Eijsvoogel a seasoned entrepreneur with international experience in operations, sales & marketing, finance and general management. With his sales and marketing expertise he led his former company Sticker Station Benelux BV to a success in the Dutch and Belgium markets prior to selling the company in 2005.
Mr. Eijsvoogel, an Amsterdam, The Netherlands native, is committed to grow the market for PIDPLATES in North America in cooperation with the products' developer, whose company has had great success with PIDPLATES since 2003 in more then 11 European countries, Australia and New Zealand
Company Web site offers online ordering 24 hours a day, 7 days a week. An interactive online preview tool provides the final look of the product before purchase. For information on ordering or distribution, visit the company's website at PIDPLATES USA Inc. or call seven days a week at 678-320-0115.
###