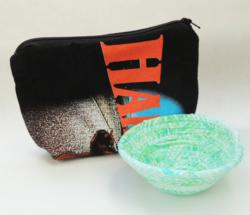 You can never have too many cute storage containers when it comes to home accessorizing.
Scottsdale, Arizona (PRWEB) April 30, 2013
Partnering with The Artisan Group, Pieceful Design (http://www.piecefuldesign.etsy.com) will have its Itty Bitty Bowls and Recycled Motorcycle T-shirt Zip Bags in celebrity swag bags at GBK's 2013 Cannes Film Festival Gift Lounge in Cannes, France on May 17-20, 2013. Pieceful Design, founded by fiber artist/proprietor Jennifer Brown, has been making innovative, hand-coiled baskets since 2008.
The Itty Bitty Bowls, which Brown coils using clothesline and batik fabric, are a Pieceful Design classic and illustrate Brown's creative philosophy, which she describes as, "bold color, with a practical flair." The Motorcycle T-shirt Zip Bags are a new, eco-conscious addition to the company's product line.
Brown explains, "As we were downsizing my husband's motorcycle T-shirt collection; I cut away and saved the logos for a quilt. It was painful to throw away the excess fabric and that's when I hit upon the idea to transform the excess into something useful. While working through the details, I learned it takes 2,700 liters of water to make a single T-shirt, which totally reinforced my desire to repurpose the fabric. I'm excited to be able to share these fun zip bags at the Cannes gift lounge."
In addition to being functional on their own, the zip bags serve as a creative and earth-friendly means of packaging the 55 gifts that Brown was asked to create for the Cannes project.
Watch a Pieceful Design video.
Collectors from the United States and around the world appreciate Pieceful Design bowls for their affordability, functional design, unusual shapes and lush color and tend to amass them by the dozen because, as Brown notes, "You can never have too many cute storage containers when it comes to home accessorizing."
Although others make hand-coiled fabric containers, Brown's work is distinguished by her decision to use batik fabrics to wrap the coils. Brown decided on this type of fabric because of its color saturation and dense weave. "These properties lead to richer hued containers and a much stronger product," noted Brown. "I also enjoy how the different patterns and fabric variations allow me to create subtle changes so that no two bowls or baskets are ever alike."
In addition to the 2013 Cannes Film Festival gifting, Pieceful Design products have been showcased on display and included in GBK's celebrity swag bags for the 2012 MTV Movie Awards and the 2012 Primetime Emmys and were gifted to Bethenny Frankel in 2012 as part of a The Artisan Group Collaborative Gift Bag. The company has been featured on several blogs, including "Twenty Best Twenty" and "The Funky-Monkey."
Momtrepreneur Brown describes herself as the "most over-educated stay-at-home mom in Arizona." With an Ivy League education behind her, she worked as an educator in New York City and Long Island until a series of cross-country moves convinced her to abandon teaching and focus on her children. With all the free time, Brown jokes she "quickly descended into addiction, the drug of choice being fabric." Quilting was her gateway drug, and she joyfully hand-quilted several quilts for friends and family.
She quickly discovered that working with just a few fabrics at a time was just not enough—she needed the "high" of creating with a variety of fabrics on a daily basis and eventually taught herself to make the coiled baskets she is known for. Brown now spends virtually every day creating these pieces: wrapping strips of rich fabrics around cotton clothesline, which she then coils and sews into circles, ovals, hearts, and even triangles.
Although Jennifer claims a genetic predisposition to fabric addiction, she doesn't blame but thanks the generations of quilters and sewers (her great-grandmother, grandmother and mother) that came before her! Jennifer currently resides in Scottsdale, Arizona with her ever-patient husband, two scary-smart sons, and a very uncooperative dog.
Pieceful Design products are available online at http://www.piecefuldesign.etsy.com. Follow Pieceful Design on Facebook (PiecefulDesign) and Twitter (@PiecefulDesign). Retail locations interested in carrying Pieceful Design products can contact Jennifer Brown directly at 520-678-1868. For press inquiries about The Artisan Group, please visit http://www.theartisangroup.org.