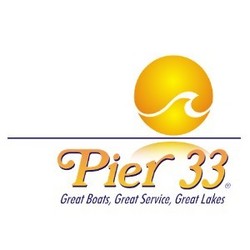 last year's show was a tremendous success for us and the Grand Rapids Boat Show draws boaters from a very vibrant, enthusiastic boating area in West Michigan. We're proud to be a part of the pre-season excitement.- Tighe Curran General Manager, Pier 33
Saint Joseph, MI (PRWEB) February 17, 2011
Pier 33 of St. Joseph, Michigan is planning its largest display in nearly a decade at the upcoming Grand Rapids Boat Show, February 16 thru 20, 2011. Pier 33 is a full service boat dealer and marina and Michigan's largest Chaparral Dealer. In addition to displaying a selection of Chaparral boats, Pier 33 will be featuring the debut of New Pursuit and Scout Boats. General Manager Tighe Curran said, "last year's show was a tremendous success for us and the Grand Rapids Boat Show draws boaters from a very vibrant, enthusiastic boating area in West Michigan. We're proud to be a part of the pre-season excitement."
On display will be the Pursuit 280 Sport, a recent introduction to the Pursuit line-up. The 280 Sport includes a full-width hardtop, center console helm, expanded passenger lounge seating and an enclosed head compartment. Powered by a pair of state-of-the-art Yamaha 250 HP Four Strokes, the 280 Sport is a big-water performer.
Also on display will be a selection of Scout Boats. Scout Boats is a leader in innovative designs that combine family-friendly comforts with serious fishing concepts and the selection to be shown includes an ideal sampling of Scout's best work. For center console-lovers, the 187 Sportfish boasts economy, practicality, unsinkability and a stylish flair.
All three manufacturers are participating in Pier 33's show efforts by providing special incentives, such as Chaparral's Float Your Boat winter boat show promotion. "Chaparral always delivers when it's time to offer our buyers something extra and the Float Your Boat program gives us an excellent combination of big rebates and extended warranty," says Curran. "We're also working with our lenders to make sure the very best financing rates of the season are available to our buyers during the show."
The Grand Rapids Boat Show is a West Michigan tradition and is one of the longest running shows in the area; drawing some 20 dealers with the newest and best watercraft from nearly 80 manufacturers. Exhibits include a range of boats from 12 to 46 feet, including motor yachts, fishing boats, ski boats, pontoons and kayaks. Also on display will be boat accessories and services like marina slips, brokers, ship stores and ski gear. Special entertainment includes an Antique & Classic Boat display; a display from the Michigan Maritime Museum; the Huge Lagoon featuring wakeboarding & water skiing demonstrations and kayak clinics & demos; a single-day boating safety certification class; seminars and much more.
Grand Rapids Boat Show Hours:
Wednesday, February 16 (3-9:30pm)
Thursday, February 17 (3-9:30pm)
Friday, February 18 (11am-9:30pm)
Saturday, February 19 (10am-9pm)
Sunday, February 20 (11am-6pm)
Admission: $9 adults, $4 for children 6-14 and free for children 5 and under, when accompanied by an adult.
For more information about Pier 33 or to make an appointment to meet with the Pier 33's sales team at the show, please visit http://www.pier33.com or call 1-800-886-0493.
Discount Tickets can also be obtained by clicking: http://www.showspan.com/Coupon.aspx?showcode=GRB
For further information please contact David Jensen CMM, Vice President of Marketing and Operations at Allen Roche Marine.
# # #