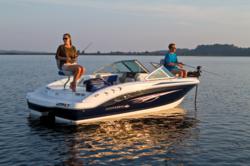 Chaparral has introduced these boats to meet our buyers' needs at just the right time. They've got the right idea and have packaged the H20s in the most economical way possible
St. Joseph, MI (PRWEB) January 30, 2012
Pier 33 Marina of St. Joseph, Michigan, is preparing to make a big splash during the upcoming Grand Rapids Boat Show with the local debut of the exciting new H2O series from Chaparral Boats.
Just introduced for the 2012 model year, Chaparral's H2Os deliver a new combination of affordability, style, versatility and quality, designed to meet the needs of many first-time boat buyers and returning Chaparral fans. According to Chaparral Founder Buck Pegg "We wanted to bring the quality, style, innovation and reputation of Chaparral to first-time boat buyers. Our multi-purpose H20 line does exactly that."
Buyers can select from four new models. The Chaparral 18 & 19 H2Os will be offered in both a Sport and a Ski & Fish version, allowing boaters the opportunity to choose the package that best suits their plans for fun on the water. Pier 33 will unveil the H20 19 Sport, featuring a stunning graphics package and wakeboard tower, as well as the 18 Ski & Fish with trolling motor, convertible pedestal fishing seats and more, during the boat show.
"Chaparral has introduced these boats to meet our buyers' needs at just the right time. They've got the right idea and have packaged the H20s in the most economical way possible, with matching trailers and loads of standard features … plus very straightforward pricing. The 18 Sport starts at just $21,885, with trailer. That's an outstanding opportunity for a family to get on the water affordably" says Pier 33 General Manager Tighe Curran.
The launch of the H20 Series continues Chaparral's award-winning string of new product introductions. In the last five years, the company has introduced 30 new boats. Chaparral President Jim Lane remarked "This is the first time we've offered boats at nationally advertised prices. The H20 Series is competitively priced and on target for today's value-minded buyers".
The Grand Rapids Boat Show will be held February 15 thru 19 at DeVos Place in downtown Grand Rapids. "I can't think of a better showcase for the H20's. The boaters we meet in Grand Rapids know quality and value" continued Curran of Pier 33 "and this show is always a great boat-buying event. The season is just around the corner".
Pier 33 has dedicated a full website page to boat show details, including links to Pier 33's Boat Show Blog and more show information. Boaters can also follow Pier 33's Facebook page for regular updates as the show draws near.
Headquartered in Nashville, Georgia, Chaparral Boats designs, manufactures and distributes premium quality sterndrive and inboard pleasure boats from 18 - 42 feet in length. In addition to being the largest dealer in Michigan for new boats from Chaparral, Pier 33 is also a full-service marina and dealer for Scout Boats and Pursuit Boats, serving boaters from a wide region including Michigan, Indiana and Illinois.
###