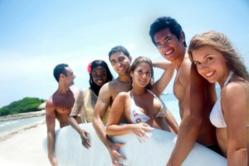 Things to do at Panama City Beach Florida Summer of 2013
Panama City Beach, Florida (PRWEB) April 22, 2013
PCBVacation.com, the premier Panama City Beach vacation rental site, is pleased to announce that the long-anticipated Pier Park amphitheater located next to the eponymous new shopping village has now opened.
The amphitheater celebrated its grand opening in early April with a fireworks show and performance by Panama City POPS orchestra, then kicked off the Panama City Beach vacation season by hosting the Seabreeze Jazz Festival, one of PCB's most popular wine, jazz and seafood annual events.
"We're extremely excited to have this new amphitheater so close to some of the best beaches and vacation condos in the world," said Nathan Tice, Chief Operations Officer of PCBVacation.com. "Pier Park is one of the crown jewels of our area, and now the Pier Park amphitheater is one more great reason to visit this gorgeous facility."
The complete line-up of future events at the Pier Park Amphitheater has not yet been announced, but PCB officials have said they are now accepting bookings. The amphitheater is open for events through the spring, closed for June and July, then open again in late August and through the fall.
The amphitheater was part of a $2.6 million project at Aaron Bessant Park, immediately adjacent to the Pier Park shopping complex. In addition to the amphitheater, the city added new restrooms and soccer fields, according to the Panama City News Herald.
City officials have said the covered and elevated Pier Park amphitheater was designed so that performers would be able to quickly and easily set up their equipment using a dedicated off-loading area, built-in sound and video support structures, and lockable storage and dressing rooms.
There will be additional improvements to the Pier Park amphitheater stage facilities later this year, such as additional lighting, to help attract major performers.
The News Herald reported that the Pier Park amphitheater accommodates about 7,500 people and is expected to host about 20 major events such as concerts and festivals per year. The city has set aside $500,000 to host a major headlining act in a concert series for the Panama City Beach vacation season.
Other planned events at the Pier Park amphitheater include a July 4th celebration and Pirates of the High Seas festival in mid-October.
Pier Park and the Pier Park amphitheater are located in a lower-traffic area on the western end of Panama City Beach, directly across the Front Beach Road from the Gulf of Mexico. The park is served by two main roads, Front Beach and the recently widened and improved Back Beach Road.
The Pier Park retail village sits on 112 acres of meticulously landscaped property and is home to dozens of department stores, specialty shops and restaurants. They're all only a very short walk from the Pier Park amphitheater.
Among the major retailers with stores in Pier Park are JC Penney, Target, and Dillard's. Smaller shops include everything from Ron Jon Surf Shop to Shimmering Seas Jewelry. Restaurants include Jimmy Buffet's Margaritaville and Five Guys Burgers and Fries.
The Pier Park amphitheater was funded in part by BP tourism grants as part of the Gulf oil spill settlement.
About PCBVacation.com: The premier destination for finding and booking Panama City Beach condos and other vacation rentals near the Pier Park amphitheater and across PCB. The team at PCBVacation.com has nearly 20 years of experience providing top-rated resort and condo services to vacationing guests.
PCBVacation.com is available 24/7 for finding the perfect vacation rental in Panama City Beach. Please visit the site for simple, hassle-free vacation condo booking and for updated Panama City Beach information, including the new Pier Park amphitheater.