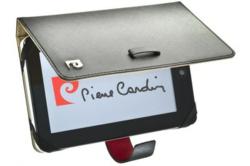 Denver, Colorado (PRWEB) January 03, 2013
The small tablet market features a vast selection of brands, tech specs and design, not to mention the price tags.
Designer tablets are new to the tablet market and even newer to the low-end price category, where most brands are unknown.
According to the company, for the price tag, these tablets will not deliver the same performance as an iPad, but they will be a reliable device for the buyers looking for hassle-free systems.
The Holiday shopping season had most online retailers slashing prices for tablets, but it is the lower-end market that is the most appealing.
http://www.FindMyPrice.com reviews reveal that at prices that are often around $50-$70, buyers can get a low-cost tablet with decent specs and even a popular name, such as the Pierre Cardin 7-inch tablet, that makes a good gift for the fashionistas.
The 7-inch Pierre Cardin PC – 7006G tablet has a design that resembles the simplicity of the iPhone, with a squarish rectangle shape, a silver banding around the edges and a round home button. The back panel of the $70 tablet carries a signature that spells Pierre Cardin and would likely be a great piece to add to a fashionista's collection of designer items.
Tech specs, screen quality, OS and processor for the Pierre Cardin PC – 7006G tablet meet the $69.50 price tag. The Pierre Cardin tablet PC packs an 800 x 480 pixel screen and runs an iMAP210 800MHz CPU processor with Android 2.2 Froyo OS. The standard version comes with 4GB internal memory that can be expanded to 16GB via a Micro SD slot.
The 7-inch designer tablet has a battery life that amounts up to 8 hours and 36 minutes (as it resulted in a performance test with video playback, Wi-Fi on and maximum screen brightness) and connects to the Internet via a Wi-Fi connection.
This Holiday season, price comparison platform Find My Price focused particularly on the tablet market, delivering unbiased reviews and the best deals available, to the end purpose of helping buyers finding the lowest prices available at online retailers. The team at Find My Price reviewed prices, bundle deals and products, checking all the points of interest a buyer usually looks at when planning to buy a device: tech specs, pros and cons, screen quality, OS version, Netflix, YouTube and Facebook apps, Wi-Fi/4G/LTE speeds, battery life, audio and HD playback quality, IR functionality and memory available.
Find My Price is a leading price comparison platform that features comprehensive reviews of electronics, including tablets, Mp3 players, headphones, ultrabooks, netbooks, DVRs, TVs and so on. The website strives to deliver an accurate resource of information to help buyers make the most convenient purchase.