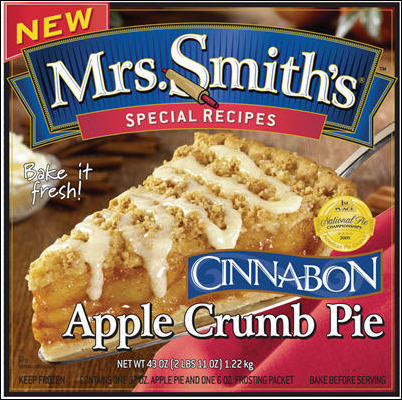 Nominees can choose from a large variety of products made especially for today's active lifestyle.
LOS ANGELES, CA (PRWEB) August 23, 2006
Mrs. Smith's® pies, which won five awards at this year's National Pie Championships, will serve as the official, exclusive dessert in the nominee gift basket themed, "Everybody Wins At The Emmy Awards®." Some of the 2006 nominees include: Kiefer Sutherland, Kyra Sedgwick, Charlie Sheen, Alfre Woodard, Tony Shalhoub, Sandra Oh, Alan Alda, Jon Voight, Donald Sutherland, Ben Kingsley, Lisa Kudrow, Michael J. Fox, Julia Louis-Dreyfus and Candice Bergen.
The 58th annual Primetime Emmy Awards will air on Sunday, August 27th at 8p/7c. Hosted by Conan O'Brien ("Late Night with Conan O'Brien"), the show will broadcast live on NBC-TV from the Shrine Auditorium in Los Angeles. Confirmed presenters include actor/producer Jason Lee ("My Name Is Earl"); nominee Jamie Pressly ("My Name Is Earl"); Ellen Pompeo and Patrick Dempsey ("Grey's Anatomy"); and executive producer William Petersen ("CSI"). The program is presented by the Academy of Television Arts & Sciences.
"'Everybody Wins' is the 2006 theme so each nominee will receive a one-year supply of Mrs. Smith's desserts," said brand manager Melinda Pritchett. "Nominees can choose from a large variety of products made especially for today's active lifestyle." Among them: Mrs. Smith's® bake-and-serve Traditional Recipe and Special Recipe pies, Classic Cobblers, Crisps, and Deep Dish Pie Shells, and thaw-and-serve products like Classic Cream and Soda Shoppe pies, Homestyle Cakes, Traditional Recipe Fruit Pie Slices and Coffee Cakes.
Last year Mrs. Smith's® introduced the award-winning Cinnabon® Apple Crumb Pie, Cinnabon® Coffee Cakes, Blackberry Crisp and Berry Burst Pie. Mrs. Smith's® has also introduced a line of single-serve, microwavable pie slices that are sweetened with SPLENDA® and boast 60% less sugar than the company's traditional fruit pie slices, as well as 0 grams of Trans Fat. The fruit-filled treats are satisfying as snacks or desserts and are available in classic Apple and Mixed Berry varieties. Mrs. Smith's® Traditional Recipe Pie Slices sweetened with SPLENDA® are ideal for people who want to limit their sugar and caloric intake, including celebrities and diabetics. Now available in grocers' freezers, the pie slices are sold as two, single serve slices, individually packaged for easier portion control.
Based in Suwanee, Georgia Mrs. Smith's desserts, snacks and breakfast treats are sold by Schwan's Bakery, Inc. The Mrs. Smith's brand was founded in the early 1900s when Amanda Smith began baking in her kitchen. Today, the brand is an American icon, best known for its high-quality ingredients and home-baked taste. Mrs. Smith's pie tins are still made in Pottstown, Pennsylvania where Amanda Smith first started her business. Mrs. Smith's® products can be found at supermarkets nationwide. For more information visit http://www.mrssmiths.com.
###