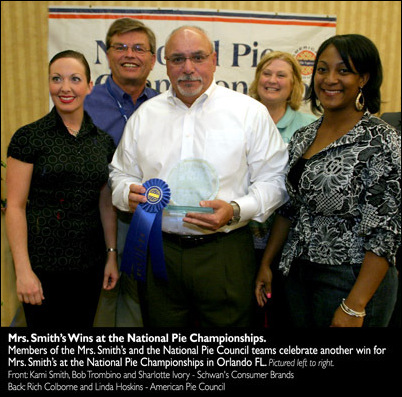 We've tapped into some of the most current popular and distinctive tastes in America, while our classics -- Apple Pie and Pumpkin Pie are always stellar performers
Celebration, FL (PRWEB) April 26, 2007
Mrs. Smith's®, #1 in U.S. frozen pies, was awarded a blue ribbon for its Dutch Apple pie at the 2007 Great American Pie Championship, during the American Pie Council's (APC) annual festival.
"Pie-lovers know that they can trust Mrs. Smith's to bring home fresh-baked goodness and clearly the judges were equally impressed," said Bob Trombino, Senior Director of Marketing and Category Leadership for Schwan's Consumer Brands. "It's great to win for yet another straight year."
According to Trombino, Mrs. Smith's has expanded distribution on several products introduced in the past year. Among them were three Mrs. Smith's desserts co-branded with Cinnabon® -- Cinnabon® Apple Crumb Pie; Cinnabon® Coffee Cake; Cinnabon® Pecan Coffee Cake; Deep Dish Berry Burst; and Mrs. Smith's pie slices sweetened with Splenda® -- Apple and Mixed Berry.
"We've tapped into some of the most current popular and distinctive tastes in America, while our classics -- Apple Pie and Pumpkin Pie are always stellar performers," Trombino added. "This year it was Dutch Apple that most impressed the judges."
Mrs. Smith's is produced by Schwan's Consumer Brands, a division of the Schwan Food Company, one of the leading branded frozen-food companies in the world. Schwan's market-leading brands include Red Baron®, Tony's®, Freschetta®, Asian Sensations™, Edwards®, and its own signature brand -- Schwan's®.
Mrs. Smith's was founded in the early 1900s, and today the brand is an American icon -- best known for its high-quality ingredients and home-baked taste. Last year, Schwan's flagship retail brands won six 1st Place awards at the National Pie Championship.
For more information log onto http://www.mrssmiths.com, or http://www.mrssmithscalendar.com.
###