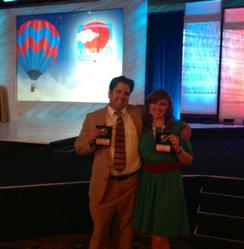 Southlake, TX (PRWEB) June 10, 2013
Pieter Andries, certified gemologist and founder of Pieter Andries, Creators of Fine Jewelry based in Southlake, is pleased to announce that two employees, Shalayne Heffner and Donald Garigan, have recently earned the prestigious designation of Certified Sales Associate of the American Gem Society.
The recognition is bestowed following successful completion of a course of study and final examination about jewelry and the jewelry industry. The course included product knowledge in diamonds, colored gems, pearls, watches and precious metals as well as training in business principles, operations, ethics, security, and customer service.
To maintain the status of Certified Sales Associate, Heffner and Garigan must successfully pass an annual recertification exam and uphold the membership and ethical standards of the American Gem Society.
The American Gem Society, founded in 1934 by Robert M. Shipley, is a trade association dedicated to proven ethics, knowledge and consumer protection within the jewelry industry. Members are held to high ethical standards and are recognized as accomplished and ethical professionals by their peers. For more information regarding the American Gem Society, please call 866.805.6500 or visit the AGS website at http://www.americangemsociety.org.
To learn more about Pieter Andries Creators of Fine Jewelry, visit http://pieterandries.com.
About Pieter Andries, Creators of Fine Jewelry
Whether it is a redesign or a dream about to become a reality, the creative design expertise that Pieter Andries has cultivated over 40 years, as a Master Goldsmith and American Gem Society Certified Gemologist, is reflected in each of his creations. Skilled professional craftsmen work under the direction of Pieter Andries utilizing state-of-the-art equipment and design technology to create a masterpiece of perfection and beauty – including diamond engagement rings, wedding bands and custom jewels. Offering the largest selection of rare, conflict-free diamonds in North Texas, Pieter Andries guarantees customer satisfaction of every piece of jewelry he creates. At Pieter Andries, it's all about YOU! For additional information, call (800) 233-3459 or go to http://www.pieterandries.com.