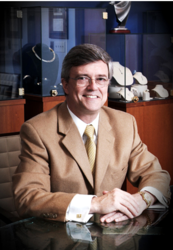 "The Rock Hunt is one of the many creative fundraising events that we have hosted over the years, and one of the most enjoyable for me personally."
Southlake, Texas (PRWEB) July 09, 2012
Pieter Andries, certified gemologist and founder of Pieter Andries, Creators of Fine Jewelry, has been an active contributor and community partner to numerous local organizations since opening his Southlake custom jewelry store in 1983. On July 7, 2012, Andries welcomed students from The Clariden School in Southlake to his store for their 2nd Annual Rock Hunt.
The Annual Rock Hunt, which became a tradition after last year's successful event, gives students the opportunity to learn about gemology from Andries, who holds the distinguished Certified Gemologist Appraiser title from the American Gem Society. Participating students, ages 6-12 enjoyed a behind the scenes look at the creation of custom jewelry, studying different gem specimens and lab equipment. This year's Rock Hunt held personal significance for Andries as his four granddaughters joined the group. The participation fees for the Rock Hunt were donated directly to The Clariden School.
The Clariden School is a unique private school serving children from age three through 12th grade. The Clariden School was established in 1986 as an AMI Montessori school. The school moved from its first location in Dallas to Southlake over 14 years ago. Reaching over 17 different cultures, The Clariden School embraces diversity and a global education.
"The successful partnership between Pieter Andries and The Clariden School over the past several years is largely due to the dedication of the Clariden parents, faculty, and volunteers, who have worked tirelessly to ensure our continued support," says Andries, "The Rock Hunt is one of the many creative fundraising events that we have hosted over the years, and one of the most enjoyable for me personally."
Pieter Andries Custom Fine Jewelry has been a supporter of The Clariden School for nearly a decade. In 2011, Andries hosted a catered fundraising dinner benefiting the school in his showroom. Andries recently acquired a gemstone from premier jewelry designer, Atelier Munsteiner, which he donated to benefit The Clariden School last May.
About Pieter Andries, Creators of Fine Jewelry
Whether it is a redesign or a dream about to become a reality, the creative design expertise that Pieter Andries has cultivated over 40 years, as a Master Goldsmith and American Gem Society Certified Gemologist, is reflected in each of his creations. Skilled professional craftsmen work under the direction of Pieter Andries utilizing state-of-the-art equipment and design technology to create a masterpiece of perfection and beauty – including diamond engagement rings, wedding bands and custom jewels. Offering the largest selection of rare, conflict-free diamonds in North Texas, Pieter Andries guarantees customer satisfaction of every piece of jewelry he creates. At Pieter Andries, it's all about YOU! For additional information, call (800) 233-3459 or go to http://www.pieterandries.com.