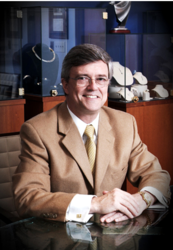 We are honored to help these worthy organizations raise funds for their much needed programs and services," said Andries.
Southlake, TX (PRWEB) February 27, 2012
Pieter Andries, Creators of Fine Jewelry, continues its generosity and community involvement in 2012 by sponsoring three fundraising events in February for the Plano Symphony Orchestra, Southlake Newcomers Club, and Kids Matter International. Pieter Andries donated custom-designed jewelry and other contributions to each event worth a total of $35,000.
According to Pieter Andries, a certified gemologist and president of the Southlake-based custom jewelry store, participating in local community events is part of the company's business strategy.
"We feel very strongly about supporting local nonprofit organizations and willingly donate our custom jewelry to assist in their fundraising efforts. Likewise, it allows more people to view our extraordinary jewelry," said Andries. "We are honored to help these worthy organizations raise funds for their much needed programs and services."
The Plano Symphony Orchestra held its "New York New York" 2012 Valentine Gala on February 11 at the Marriott at Legacy Town Center. Pieter Andries Fine Jewelry created and donated a one-of-a-kind pendant with chain to the live auction as part of the "Bentley and the Bling" package valued at $9,000. The pendant was crafted in 14K yellow and white gold and encircled with 29 diamonds to commemorate the 29th anniversary of the Plano Symphony. The total 0.97 carat diamonds are of the finest and rarest cut, color, and clarity. The symphony logo is elegantly displayed in the center to honor the wearer's passion for supporting the arts in their community.
Kids Matter International (KMI), which helps children locally and overseas, held its annual "Fruit of the Vine Gala" February 24 at the Hilton Southlake Town Square. Continuing its partnership with KMI, Pieter Andries Custom Jewelry donated a custom pendant valued at $15,000 for the auction, created 10 pairs of Elite silver cufflinks with the KMI handprint logo, hosted a pre party for guests, and purchased a table at the black tie event.
Southlake Newcomers Club hosted its second annual "Dancing With Our Stars" dinner and show February 25 at the Marriott Solana in Westlake to support several local charities and college scholarships. Pieter Andries Custom Jewelers created medallions for the two winners in Elite silver valued at $2,000, provided jewelry for the dancers, and Andries served as one of the judges for the evening.
For more information about Pieter Andries, Creators of Fine Jewelry, visit http://www.pieterandries.com or call 800-233-3459.
About Pieter Andries, Creators of Fine Jewelry
Whether it is a redesign or a dream about to become a reality, the creative design expertise that Pieter Andries has cultivated over 40 years, as a Master Goldsmith and American Gem Society Certified Gemologist, is reflected in each of his creations. Skilled professional craftsmen work under the direction of Pieter Andries utilizing state-of-the-art equipment and design technology to create a masterpiece of perfection and beauty. Offering the largest selection of rare, conflict-free diamonds in North Texas, Pieter Andries guarantees customer satisfaction of every piece of jewelry he creates. At Pieter Andries, it's all about YOU! For additional information, contact the Pieter Andries gallery in Southlake at (800) 233-3459 or http://www.pieterandries.com.
###