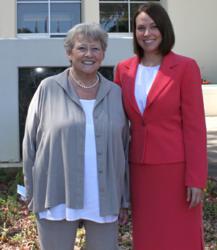 "I value Bridget because she has the intelligence, without ego, and is willing to learn everything about the job in order to excel and reach the top," said Pieter Andries
Southlake, Texas (PRWEB) May 31, 2012
Paris Junior College's Texas Institute of Jewelry Technology (TIJT) invited Bridget Byrne, Vice President of Operations for Pieter Andries, Creators of Fine Jewelry to address graduates and guests during the spring semester graduation ceremonies, held in the Ray Karrer Theater.
"If you have a passion, remain excited and do what you love, the money will follow," Byrne said in her speech to the graduates of jewelry technology, gemology, fine mechanical watch repair, computer aided jewelry design and casting.
Byrne studied gemology and graduated from TIJT in 2005. While attending TIJT, Byrne participating in a field trip to an American Gem Society retail store and manufacturing facility owned by Pieter Andries. Byrne introduced herself to Andries, who was impressed with Byrne's knowledge of gemology and hired her soon after.
Four years later, Byrne has worked in several aspects of the business, including managing the appraisal, marketing, and production departments. She was promoted in 2012 to Vice President of Operations and works alongside Andries to ensure growth through innovative procedures and forward-thinking strategies.
"I value Bridget because she has the intelligence, without ego, and is willing to learn everything about the job in order to excel and reach the top," said Andries of Byrne. "We are both fortunate that we allow each other to make mistakes and grow. Something remarkable between Bridget and I is that we share the same vision. It's rare to have in a relationship between an employer and employee. I'm extremely privileged to have a person like Bridget on my team, and I give her all my trust."
Pieter Andries employs four TIJT alumni in addition to Byrne. TIJT is a highly acclaimed division of Paris Junior College, with a reputation for teaching excellence, and was established in 1942.
For more information about Pieter Andries, Creators of Fine Jewelry, call 800-233-3459 or go to http://www.pieterandries.com.
About Pieter Andries, Creators of Fine Jewelry
Whether it is a redesign or a dream about to become a reality, the creative design expertise that Pieter Andries has cultivated over 40 years, as a Master Goldsmith and American Gem Society Certified Gemologist, is reflected in each of his creations. Skilled professional craftsmen work under the direction of Pieter Andries utilizing state-of-the-art equipment and design technology to create a masterpiece of perfection and beauty – including diamond engagement rings, wedding bands and custom jewels. Offering the largest selection of rare, conflict-free diamonds in North Texas, Pieter Andries guarantees customer satisfaction of every piece of jewelry he creates. At Pieter Andries, it's all about YOU! For additional information, call (800) 233-3459 or go to http://www.pieterandries.com.