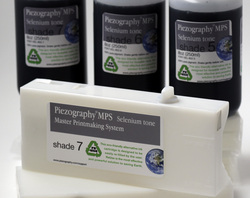 I have never seen a D-max this dark before in digital or silver
Topsham, VT (PRWEB) September 8, 2010
Piezography® is announcing an all-new black & white photographic ink set that is designed to enhance the capability of Epson® 3800 and 3880 printers when used for black & white photographic printing. Piezography MPS (Master Photography System) takes advantage of the 9 ink capability of the Epson 3800 & 3880 printers by replacing all of the Epson color inks with a dedicated black & white Piezography ink set including photo black, matte black, six gradated shades of light black, and a clear gloss optimizer. Piezography MPS is Jon Cone's latest achievement in highest-quality monochromatic inkjet printing. Piezography MPS is the world's first dedicated monochromatic ink set that does not use any color components and can be used on the widest possible range of matte and glossy materials including film for digital negatives and positives.
The Piezography MPS system comprises nine individual Piezography monochromatic inks. There are seven shades of Piezography black ink, which include two shades similar in density to Epson's LK and LLK. Piezography adds three additional darker shades and two additional lighter shades that dramatically increase shadow and highlight details. Additionally, Piezography includes both a matte black and a photo black so that the inks can be used on the widest possible range of media. The ninth ink is the clear Piezography Gloss Optimizer which is used to overprint glossy prints and produces perfectly equalized gloss with absolutely no bronzing nor metamerism. With seven shades of black ink, Piezography MPS produces perfect matte and glossy prints, exceeding in quality the Epson Advanced Black & White system that uses only three shades of black ink.
Piezography MPS is not only the world's highest standard quality product in its class; it is also an ecologically responsible product to use. "Customers who are fanatical about the quality of their black & white prints will benefit by using Piezography MPS," said Jon Cone, President of InkjetMall. "Piezography inks are sold in refillable cartridges that permit customers to use these printers at a fraction of the cost of Epson ink while sparing the ecology the fate of one-time use carts." More than 450 million one time use carts are thrown into landfills each year in the USA alone.
The Piezography MPS ink system exceeds Epson's Advanced Black and White system by eliminating all bronzing and metamerism, while increasing highlight and shadow detail, producing an overall smoother image, and introducing a gloss surface that perfectly equalizes the differential in gloss between the non-printed paper and any printed ink shade. This innovative approach to fine black & white printing results in a glossy print that perfectly emulates the darkroom fiber-based print that dominated black & white photography for decades.
Neil Selkirk, a photographer of national reputation who's powerful and uncompromising portraiture has appeared in all the major US magazines, including the New York Times Magazine, Vanity Fair, The New Yorker, Vogue, Esquire, and Interview is a recent adopter of the Piezography MPS system. "I have never seen a D-max this dark before in digital or silver," said Selkirk.
"We have tested the most relevant printing systems on the market by the big inkjet manufacturers," said Markus Zuber, of FineArtPix, a professional print studio and lab in Aarau, Switzerland. "Neither the OEM software nor OEM inks have ever been able to entirely resolve issues like bronzing, metamerism or gloss differential." "Using Piezography MPS we are getting what we have dreamt of for quite a long time", said Zuber. "We finally have the perfect combination of finest details and tonal richness optimized for both matte and glossy papers, and we are convinced that this technique gives us the best longtime stability - which has been proven recently in studies by Aardenburg Imaging and Archives."
Capable of printing on any brand of matte, baryta, glossy media or film, the Piezography MPS ink set is available in two monochromatic tones that replicate two popular darkroom processes. Piezography MPS Selenium system produces results that are very similar to the Ilford fiber based silver papers that were selenium toned and dominated photography since the 1970s. Piezography MPS Warm Neutral is designed to emulate Agfa warm process versions of Brovira and Portriga. By using different papers, the final tone of the inks can be pushed warmer or cooler depending upon paper white. A complete set of Piezography media profiles for most popular papers is included.
Paul Taylor, Director of Renaissance Press, in Ashuelot, New Hampshire is widely considered one of the best gravure and platinum printers. Taylor has been using the Piezography MPS Selenium ink set for making film positives and negatives used in the production of its copper plate photogravures and platinum prints. "The Piezography MPS Selenium ink set has the greatest durability, longest tonal range, and finest dither pattern of any of the inks I've tested," said Paul Taylor. "It is remarkably suited for creating both positive and negative transparencies on film for hand applied photographic processes." Mr. Taylor is also an instructor in both Copper Plate Photogravure and Digital Hybrid, a course, which combines digital imaging with hand, coated emulsions at The Rhode Island School of Design, Providence, Rhode Island. "The Piezography MPS Selenium ink set has met with great success among both students and faculty at RISD," added Mr. Taylor.
In addition to the Epson 3800 / 3880 which have auto-switching from matte black to photo black, Piezography is introducing the Piezography MPS system for the Epson 2880, 4800, 4880, 7800, 7880, 9800, 9880 printers. These printers require a black ink change procedure to go from matte black to photo black. All of the Piezography MPS systems are delivered in eco-friendly, refillable cartridges that reduce landfill waste and allow users to buy Piezography ink at a fraction of the cost of Epson ink.
The Piezography MPS system for the Epson 3800 and 3880 is available now in the USA from InkjetMall. It is priced at $632.48 for a 125ml ink system and $833.84 for the 250ml ink system. Both systems represent a significant savings in ink costs over using the OEM inks, yet include a complete set of refillable cartridges. Additional bottles of Piezography ink are only $44 for 125ml, $84.00 for 250 ml, $120.00 for 500 ml and $184.00 for 1000 ml. The street cost for 60 ml of Epson ink is $1.00 per ml. Piezography ink when bought in bulk is as low as $0.19 per ml and never more than $0.35 per ml.
Piezography MPS systems for the Epson 2880 including a continuous ink system with 125ml bottles are only $575.00.
Piezography MPS systems for the Epson 4800, 4880, 7800, 7880, 9800 and 9880 printers with 250ml bottles and refillable carts is only $849.54.
For additional information on the Piezography Master Photography System, visit http://www.piezography.com/PiezoPress/piezography-products/inks/mps/
To purchase the Piezography Master Photography System, please visit http://www.inkjetmall.com
About Piezography
Piezography is the USA and EU Registered Trademark of Cone Editions Press. Piezography inks have been setting the standard in black & white conversion of Epson printers since 2000. Jon Cone has been involved in fine black & white inkjet printing and product development since 1993, and is the world's first pioneer of digital printmaking.
###