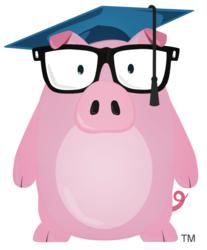 PIGLT helps people think of themselves as entrepreneurs and gives them a platform to show how they can add value to the world.
Los Angeles, CA (PRWEB) February 26, 2013
Everyone deserves access to higher education. Founders Casey Wallace and Vidya Chokkalingam have created PIGLT (pronounced "piglet"), a revolutionary model that empowers its users to engage their inner entrepreneur in order to address the burdensome costs of higher education that continues to crush people nationwide. Student debt in the US is about $1 trillion, and steamrolls ahead increasing at $100 billion per year – a larger problem than credit card or car loan debt.
PIGLT offers individuals an opportunity to engage the community and crowdfund their higher education & private student loan debt. Crowdfunding is a concept, which takes a little bit of resources from a lot of people to solve a common goal. A person in need of funding, or "Dreamer," creates a video campaign on PIGLT sharing their higher education desires and consequent funding needs, and what goods, services or incentives they can provide in exchange for funding from the supporters, or "Believers." PIGLT is not just for those looking to pay off their college education; any type of post-vocational education is accepted. An accountant aspiring to be a Pilates instructor might offer to prepare people's taxes in exchange for funding towards her Pilates certification, for example.
PIGLT verifies the Dreamer's institution and/or loan details, student ID and enrollment prior to approving their campaign as a measure to guarantee the money is used for the intended purpose. When a campaign reaches the Dreamer's pre-designated funding goal, PIGLT sends the money raised directly to the Dreamer's Academic Institution, Vocational Institution, or Loan Originator, ensuring there are no questions the money is being used for the right reasons.
"I want to help people decrease their educational debt and achieve their dreams," says founder Wallace. "PIGLT helps people think of themselves as entrepreneurs and gives them a platform to show how they can add value to the world."
PIGLT doesn't just benefit the empowered Dreamers looking to raise their funding goals. It also inspires the Believers to donate to causes that they genuinely believe in. Beyond donating to individual campaigns, Believers can set up their own "Believer Fund," similar to a scholarship fund, in which qualifying Dreamers can apply. Unlike giving directly to an organization, this model allows Believers to choose exactly who they want to help, and enables them to receive Dreamer-incentives for their funding as well.
Wallace believes that by using this creative model, it will empower both Dreamers and Believers to tackle the student debt epidemic, find their inner entrepreneur, and make their goals a reality. PIGLT is now accepting invite requests for their launch at http://www.PIGLT.com.
About Founder Casey Wallace: Casey is a graduate of the United States Air Force Academy and got his MBA in Marketing & Entrepreneurship from Loyola Marymount University. He has served as and Officer in the Air Force and worked as a Financial Contractor for the US Government. After graduating from the Air Force Academy with no student loan debt, Wallace wanted to give others the same opportunity to be free from educational debt as well.
About Founder Vidya Chokkalingam: Vidya is a graduate of College of Engineering, Guindy, Anna University, and also obtained her MBA in Finance & Entrepreneurship from Loyola Marymount University. Vidya has over 5 years of experience in education and technology development and is extremely proactive in the start up community in India.