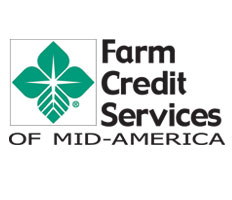 We're not just about lending, but also about giving money back through our stewardship program
Louisville, KY (PRWEB) December 22, 2011
The Pike County Agricultural Society's efforts to raise funds to build a new sheep and goat barn at the County Fairgrounds received a boost recently with a $5,000 gift from Farm Credit Services of Mid-America. The check was presented by Farm Credit financial services officer Tony Brammer of the Lucasville office to officers of the Ag Society at its annual carnival earlier this fall.
"Farm Credit really stepped up to be a good partner with us and see that we got our goal accomplished," said PCAS member and Pike County Extension Educator Jeff Fisher. "We appreciate their support, both on this project and in the past, where they've been there for us at our livestock sales and other fundraising activities."
The PCAS has invested nearly $1 million over the past ten years to build new livestock barns, meeting rooms, multi-purpose buildings, an Extension office, and operational facilities at the Pike County Fairgrounds. The barn for sheep and goats is the final phase of that construction.
In addition to serving as a sheep and goat facility during the annual 4-H fair, the fairgrounds' location at the "Crossroads of Southern Ohio" will allow it to also serve as a venue for a wide range of events from a ten-county area. Anticipated activities would include Quality Assurance training, the Ohio Valley "Animal Extravaganza," Portsmouth Rabbit Breeders regional and state shows, as well as providing a much-needed location for social events like reunions and receptions. The facility is also expected to generate some additional revenue during the winter as a storage facility for campers and commercial food booths. Construction is slated to begin in 2012, and be completed in time for next summer's fair the first week of August.
"We're hoping to get a lot of mileage out of this facility," said Fisher. "We'll be able to have a lot of youth trainings of various types where we can have kids here from 8 to 10 counties at a time."
Fisher first learned about Farm Credit's stewardship initiatives in local communities through his role as a Farm Credit advisory committee member with the Lucasville office. He approached Brammer in October about the possibility of getting an FCS grant, and the two of them worked together on the application, which was approved a short time later.
Brammer indicated that the gift was part of the ag lending cooperative's commitment to being an active good neighbor in the communities they serve. Through its stewardship program, Farm Credit places a high priority on supporting youth activities like 4-H and FFA, and by offering programs like guaranteed loans for young and beginning farmers.
"That's a big part of what we're here for," said Brammer. "We're not just about lending, but also about giving money back through our stewardship program. A lot of us at Farm Credit have either been in 4-H or FFA, or have kids in them, and recognize the value of these programs. We're glad we have organizations in this county that are taking the initiative to improve opportunities for our youth. After all, youth is where the future is."
About Farm Credit Services of Mid-America:
Farm Credit Services of Mid-America is a $17.1 billion financial services cooperative serving over 92,500 farmers, agribusinesses and rural residents in Kentucky, Ohio, Indiana and Tennessee. The association provides loans for all farm and rural living purposes including including real estate, operating loans,equipment loans, and housing loans. FCS also provides an array of financial services, including crop insurance and leases. For more information about Farm Credit, call 1-800-444-FARM or visit them on the web at http://www.e-farmcredit.com.
###