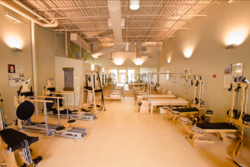 Pilates in the Pines offers an upscale environment with the highest-quality Pilates and Gyrotonics instruction
and equipment available today.
Denver, CO (PRWEB) June 11, 2013
Pilates in the Pines recently celebrated their 10 year anniversary, and to thank their customers, they are offering discounted Pilates classes at their Pilates studio located in the Castle Pines community of Castle, Rock, Colorado. Under the discount program, Pilates classes are available at the rate of 10 group classes for $200.
Pilates in the Pines offers a variety of Pilates classes taught by Master certified Pilates instructors Alana Norman and Cathy Bosson, and certified Gyrotonic® instructors who have been studying and teaching Pilates since the 1970's. The staff at Pilates in the Pines boasts the most accredited Pilates instructors in Douglas County, and the Denver metro area.
Alana Norman, Founder and Co-owner of Pilates in the Pines, is a Master Pilates Teacher and Certified Gyrotonic®, Gyrokinesis®, and specialized Gyrotonic® equipment teacher. Alana brings more than 30 years of dedicated Pilates, wellness and medical experience to Pilates in the Pines. She began studying Pilates in the early 1970s under the tutelage of its premier disciples including Ron Fletcher, Bruce King, Romana Kryzanowska and Eve Gentry.
Cathy Bosson, Founder and Co-owner of Pilates in the Pines, is also a certified Pilates instructor and certified in the use of Gyrotonic®, and specialized Gyrotonic® equipment.
Besides Alana and Cathy, classes are taught by Certified Pilates Teacher Julie Dozois.
Ten years ago, Alana and Kathy searched the country to find the perfect location to open their Pilates studio. After 3 years of research, they decided that Castle Pines, an up-scale residential area in Castle Rock, Co, was the perfect location.
Today, Pilates in the Pines offers a full selection of Pilates training classes Monday – Thursday and on Saturday mornings, alternating between "Mat Classes" in which participants are taken through a series of exercises using the body alone, and "Reformer Classes" where the students use the Pilates Reformer machine in their workout. Private sessions are available during the week when classes aren't scheduled, all day Fridays, and on Saturdays after classes by appointment.
About Pilates:
Pilates is a conditioning routine developed in Germany in the early 20th century. It stresses flexibility, strength, and endurance in combination with alignment and breathing. It can be expanded and modified in difficulty and intensity over time as the body strengthens and adapts to the exercises.
About Pilates in the Pines:
Pilates in the Pines is located in The Village at Castle Pines, east of the intersection of US 85 (Santa Fe Drive) and Happy Canyon Road just north of Castle Rock in Douglas county, about 10 minutes south of C-470 on either I-25 or Santa Fe. Complete information about the studio, its location, and its classes is available on the Pilates in the Pines website.
For further information, contact:
Alana Norman or Cathy Bosson
Pilates in the Pines
880 Happy Canyon Road, Suite 145
Castle Rock, CO 80108
720.733.9307