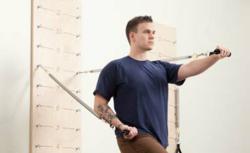 Pilates taught me how to not have lower back pain by focusing on strengthening my gluts and core!
Oakland, CA (PRWEB) April 30, 2013
Pilates is an excellent way to strengthen the core, improve flexibility, enhance body awareness, increase strength while exercising in a relaxing environment. The pilates springboard uses springs for endless workout for the whole body. Classes using this equipment are fun, dynamic, detailed and energetic.
Pilates in Oakland at Brooklyn Academy Roots specializes in getting a great workout while paying close attention to lower back and knee pain. Pilates is perfect for those looking to start a new workout program, continuing to improve one's fitness or bringing a new element to one's routine. Because pilates is the type of exercise that increases body awareness, the more one participates in it, the harder each class gets. This fact allows beginner and advanced levels of fitness participants to improve upon their level.
Brooklyn Academy Roots also offers classes in conditioning, muay thai, self-defense and TRX. Holistic nutrition appointments are available for weight loss, food sensitivities, women's health issues in Oakland and hormonal imbalance.