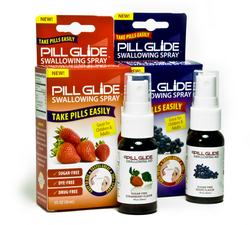 Studies have shown that 40% of Americans admit to experiencing difficulty swallowing pills currently or at some point in their life.
Columbia, MD (PRWEB) June 4, 2010
FLAVORx Inc. announced today the launch of its newest health care product, Pill Glide, in all 818 Publix Pharmacy locations across Florida and Georgia. "We're very excited Publix has taken the initiative to offer Pill Glide to their customers," said Stuart R. Amos, CEO & President of FLAVORx. "Publix excels with our FLAVORx Pediatric Flavoring system as well, so it's clear they care deeply about their customers' well-being and making their health care experience a positive one."
Pill Glide was developed by a pharmacist looking for a solution to help customers who complained about trouble swallowing the medications he was dispensing. Further research revealed this is a common problem for many Americans. In fact, studies have shown that 40% of Americans admit to experiencing difficulty swallowing pills currently or at some point in their life (Harris Interactive, 2004).
"Feedback on Pill Glide has been phenomenal. We receive messages every day now from consumers who tell us it's been a lifesaver for them and from pharmacists who are happy to finally have a product that helps their patients swallow tablets and capsules," says Chad Baker, FLAVORx VP of Marketing. "Parents are using Pill Glide as a way to teach their children to swallow pills for the first time. People with diabetes are using it to take Metformin. Cancer patients are finding Pill Glide effective at helping them deal with dry mouth and taking so many medications daily. Expectant moms use Pill Glide to help them swallow prenatal vitamins."
Pill Glide is a water-based liquid that is sprayed in the mouth immediately before taking a tablet or capsule. The spray coats the tongue and back of the mouth, helping the medication, vitamin or supplement easily slide down the throat. Pill Glide is displayed on the Publix pharmacy counter and is available in both strawberry and grape flavors. Both flavor variations of Pill Glide are sugar-free, dye-free, gluten-free and casein-free.
"FLAVORx is focused 100% on medication adherence, helping people of all ages take the medications, vitamins and supplements they need to live happier, healthier lives," Amos said. "We appreciate and applaud Publix for helping us accomplish our mission of boosting medication adherence with both our FLAVORx Pediatric Flavoring system and Pill Glide."
About FLAVORx Inc.
FLAVORx is a health care company, based in the Baltimore / Washington D.C. area, that has been helping people take their medicine since 1994. The FLAVORx Pediatric Flavoring System is available in nearly all major retail pharmacies, 35,000 locations in all. Using FLAVORx's copyrighted flavoring recipes, pharmacists have safely flavored over 40 million prescription and over-the-counter medications for children, making it easier for them and their parents to deal with the stresses of being sick. Pill Glide, FLAVORx's newest product, expands their medication adherence focused offerings and continues the company's mission of improving lives and health-related outcomes through higher adherence. For the latest company news, follow FLAVORx on Facebook.
###