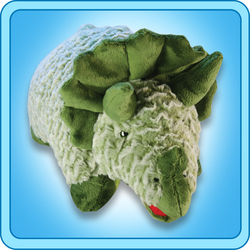 Oceanside, CA (PRWEB) February 11, 2011
CJ Products, the makers of Pillow Pets™ plush animals, one of the hottest toys in the market, today announced the re-branding of the plush animals sold only through specialty retailers from the current My Pillow Pets® to Pillow Pets™ Premium.
The name change will become effective next month with newly tagged Pillow Pets Premium plush animals arriving in specialty retail stores in Q3 2011. Specialty retailers will continue to have exclusivity of new Pillow Pets plush animal designs for three to six months before the products are offered to mass retailers.
The Pillow Pets Premium plush animal line features even softer, more luxurious fabrics and special "collector-level" branding, including an exclusive tag. The MSRP is marginally higher than the products available in the mass market given the increased quality of the Pillow Pets Premium plush animal products.
"Specialty retailers and, more importantly, their customers have been loyal fans of Pillow Pets since we got our start," said Jennifer Telfer, CEO of CJ Products. "They are our own private test market and they give us a great indication of how our new Pillow Pets plush animals will do in the broader market. "
Made of ultra-soft chenille, Pillow Pets plush animals are much more than a stuffed animal. With a strap that closes underneath to transform the pillow into a friendly pet, they are an ideal travel pal, naptime buddy and all-around cuddly friend. Pillow Pets plush animals are available in jungle animals, farm critters and sea creatures – 36 different animals to choose from – and are just one part of the Pillow Pets family of products, which also includes books, blankets, accessories, and games.
About Pillow Pets™
Since 2003, Pillow Pets™ brand products have been bringing smiles to the faces of all ages. The concept for the snuggly companions was the brainchild of a San Diego-based mother of two, who had grown tired of picking up stuffed animals strewn across her children's rooms. What began with the simple goal of transforming a stuffed animal into a functional item for children has grown into an amazing jungle of popular retail and wholesale products including plush foldable stuffed animals, books, blankets, slippers and games. Pillow Pets™ plush animals are manufactured and distributed by CJ Products, LLC, and Ontel Products Corporation. For more information, please visit http://www. MyPillowPets.com.
# # #