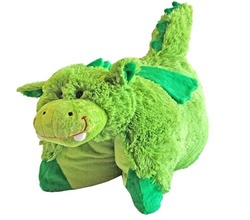 We want to have our product advertised on TV, newspapers etc. so everyone knows our product. What we want to do is get our products better known by consumers
Clifton, NJ (PRWEB) February 19, 2011
Aylin Tugcu, Chief Operation Officer of Cuddly Pillow and Pets said, "This is our first product line. We are a newly established company. We want our style to symbolize high quality, beauty, innovation and attention to the smallest details. We are expanding our market right now and want to see our product line in big department store chains."
So, what made her decide to go into the stuffed animals market in the first place? "Plush toys have always been loved by kids, meanwhile we believe that the functionality of our product line promotes interactive play and creative expression," she said.
Tugcu said their biggest competition is My Pillow Pets, however she expressed that their product line is distinctively different than My Pillow Pets with regard of the facial expressions of the animals. She also stated that Cuddly Pillow and Pets have many different animals in their collection that My Pillow Pets don't have.
Cuddly Pillow and Pets launched their site in November - just in time for the holiday rush - and currently features over 30 varieties of stuffed animals in all different colors and shapes. They range from a purple rhinoceros to a green dragon to a blue shark. Additionally all of their stuffed animals are made from high quality, machine washable, chenille fabrics.
The site itself is very navigable and has pages for each of their stuffed toys, as well as information about the company and frequently asked questions. It's extremely user friendly, making it easy for customers to go from shopping to sale in just a few steps.
Tugcu hopes this will help give Cuddly Pillow and Pets a leg up on their competition. "We want to have our product advertised on TV, newspapers etc. so everyone knows our product. What we want to do is get our products better known by consumers," she said.
So, what's ahead for 2011? Marketing, marketing and more marketing. Cuddly Pillow and Pets wants to be the one you think of first when you're talking about plush toys that are also pillows. They're focusing their efforts on advertising and search engine optimization, so that they can get more exposure among consumers.
Tugcu has big plans for Cuddly Pillow and Pets in 2011, and intends to take the stuffed animal market by storm. At the very least, she hopes to make consumers more aware of her product so that when it's time to purchase, they think of the variety and quality offered by Cuddly Pillow and Pets first.
The company plans to entice consumers with a special promotion in February, just in time for Valentine's Day. Two limited edition stuffed animals will be released featuring red and white hearts to melt the heart of that special someone. They will be a bear and a dog, both made from the same high quality chenille fabric that customers have come to expect from Cuddly Pillow and Pets.
Currently, the company is running a special on their toys to help consumers save more if they purchase more. For example, one stuffed animal is $19.95, but two are $17.95 each and four or more are $16.95 each. They're also offering free shipping for orders over $100, to help encourage consumers to take advantage of this sale.
Cuddly Pillow and Pets provides the best quality stuffed animals for any occasion for the lowest possible price. For more information, visit CuddlyPillowPets.com.
# # #