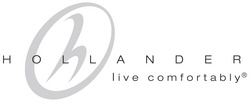 BOCA RATON, Fla. (PRWEB) June 27, 2008
Tip # 1: The Telltale Signs: Pillows that have reached the end of the road will often feel lumpy or flat and will not re-fluff very well.
Tip # 2: Take The Test: To determine whether your pillow needs replacing, fold your pillow in half. Place a tennis shoe on top of the folded half. If the pillow throws the shoe off, it still has some life. If the pillow remains folded with the shoe on top, it needs to be replaced.
Tip # 3: What's Your Pillow Style?
  Stomach sleepers - Go for a soft pillow with little elevation.
Back sleepers - You need medium pillow with moderate elevation.
Side sleepers - Choose a firmer pillow with higher elevation; aim to fill the space between ear and shoulder, so your head and neck are aligned.
The "Flipper" - Make up your mind! You need a lot more support because of all that tossing and turning, and down alternatives are great because the fills inside can be manipulated, so they squish, but still have a lot of support.
Tip # 4: Keep It Fresh: Pillows should be replaced every one to two years. A pillow past its prime could contain a high level of dust mites, which can increase breathing disorders, asthma or allergies.
About Hollander Home Fashions
Hollander Home Fashions is a 50-year leader in the home fashions industry and the largest pillow manufacturer in the United States. Founded in 1953 and headquartered in Boca Raton, FL, Hollander is an established basic bedding company that manufactures and markets bedding products under its own brand, license and private label programs. For more information about Hollander, visit http://www.hollander.com